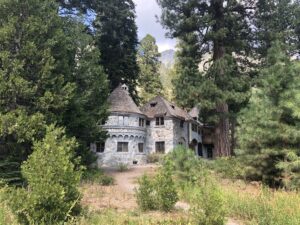 Vikingsholm is one of the finest examples of Scandinavian architecture in the western hemisphere. Mrs. Lora Josephine Knight purchased the property encompassing the head of Emerald Bay and Fannette Island in 1928 for $250,000.
Before starting construction of the summer home late that year, Mrs. Knight and her architect traveled to Scandinavia to gather ideas for the construction of the house. Work on the home ceased at first snowfall in the winter of 1928, and was started up again in the spring of 1929.
Two hundred workers were brought to Emerald Bay and started hand hewing the timbers, carving the intricate designs, hand planing the wood for the interior walls, and forging the hinges and latches. Most of the materials to construct the home came from the Tahoe Basin.
Trees were cut for their size and lack of knots, and the granite for the foundation and walls was quarried from behind the house. The ideas for the construction came from buildings dating as far back as the 11th century. Some sections of the home contain no nails, pegs, or spikes.
One of the interesting architectural designs is the sod roof which covers both the north and south wings of the complex. The interior of the home has paintings on some of the ceilings and walls and two intricately carved dragon beams. The six fireplaces are of Scandinavian design with unusual fireplace screens.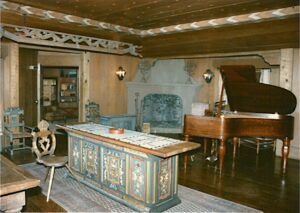 Most of the furnishings in the home were originally selected by Mrs. Knight and reflect typical pieces used in Scandinavian homes of the period. A number of original antiques were purchased and others were reproduced to exact detail, even to the aging of the wood and duplication of scratches.
The furnishings on the second floor were reproduced from the architects drawings of 18th and 19th century museum pieces. A step into Vikingsholm is like a step back into medieval times and a chance to gain an appreciation of a unique style of architecture and the person who had it built.
Vikingsholm can be reached by parking in the Vikingshom parking lot by Highway 89 at Emerald Bay.  Access to lower Vikingsholm is via a steep one mile trail that drops 500 feet in elevation to the house.   WARNING:  Visitors with medical conditions or mobility issues should not attempt this hike.  THERE ARE NO RIDES OUT. 
Visitors are welcome to hike down to Vikingsholm any time of year, but please be aware: In the winter, snow and ice can lead to hazardous conditions. Before deciding to hike in the snow, consider if you have appropriate footwear, clothing, food and water supply, and stamina level. Cell phones may not have reception. There are no services or drinking water from Oct – May. Restrooms are available year-round at the bottom. Round-trip to Vikingsholm and back is 2 miles with 400 feet elevation gain.
LORA J. KNIGHT
Many people assume that Mrs. Knight was of Scandinavian origin because of her decision to build Vikingsholm but she was actually of English decent. She was born Lora Josephine Small in Galena, Illinois, in 1864 – one of a family of four daughters and one son. Her father Edward A. Small, was a corporate lawyer who accepted two brothers, James and William Moore, into his law firm. These young men eventually grained controlling interests in a number of large companies, including National Biscuit, Continental Can, Diamond Match, Union Pacific, and Rock Island Railroad. In the 1880s Lora married James and her sister, Ada, married William.
Lora and James Moore had one son, Nathaniel, who married Helen Fargo of the family of Wells Fargo fame. During most of the Moore's married life, James and Lora lived in Chicago, Illinois and Lake Geneva, Wisconsin. They also traveled extensively, making many trips to California as well as abroad. In 1915, they purchased a home in Santa Barbara, but had little time to enjoy it together since Mr. Moore died in 1916.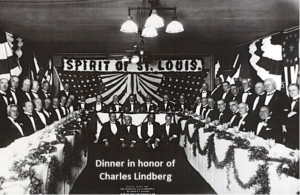 In the early 1920s, Lora Small Moore married Harry French Knight, a stockbroker from St. Louis. This marriage was not successful and they were divorced prior to the building of Vikingsholm. Mrs. Knight is probably known best for the building of Vikingsholm, but many still remember her because of her generous contributions to youth groups in California and Nevada and the provision of educational opportunities for young people who otherwise could not have afforded them. She also was a major benefactor to the Christian Science churches in Santa Barbara, Reno, and South Lake Tahoe. She and Mr. Knight actively promoted Charles Lindbergh's flight across the Atlantic and were the prime financial backers of that flight.
My thanks to California State Parks for their permission to use parts of this article. And for providing associated pictures.  Please keep them in mind if your travel plans include California