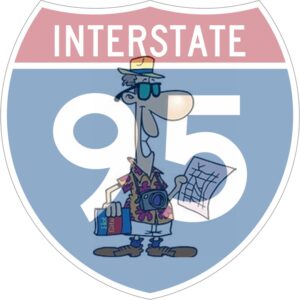 Breukelen (Dutch pronunciation: [ˈbrøːkələ(n)] is a town and former municipality in the Netherlands, in the province of Utrecht. It is situated to the north west of Utrecht, along the river Vecht and close to the lakes of the Loosdrechtse Plassen, an area of natural and tourist interest. It is located in an area called the Vechtstreek. It is the namesake of the borough of Brooklyn in New York City.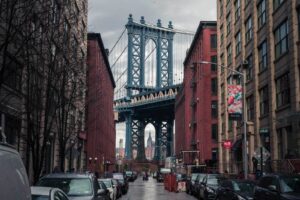 My only experience with Brooklyn was back in the early 70's when I somehow managed to get very turned around riding the New York Subway.  Thankfully, a friendly New Yorker, sensing my dilemma, directed me back to Manhattan.  I had no idea what I was missing.  Literally hundreds of things to do and see where we have 2 of our oldest and most revered Sons of Norway Lodges.
One of the best things to do in Brooklyn's Prospect Park is the beautiful Botanic Gardens. Covering 52-acres you can get lost wandering the different gardens and collections of plants in the Brooklyn Botanic Garden.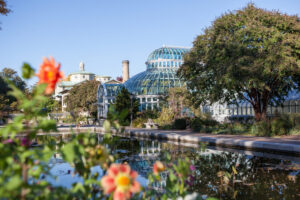 There are over 18,000 plants housed here as well as attractions like the three different plant pavilions at different climates housing different types of plants, and the C.V. Starr Bonsai Museum. The garden has both indoor and outdoor areas to explore.
Outside there is the Japanese Hill-and-Pond Garden, Cranford Rose Garden, Shakespeare Garden, Water Garden, and more. In the spring, between late April and early May, you don't want to miss the 200 cherry trees when they blossom during the Brooklyn Botanic Garden Cherry Blossom Festival.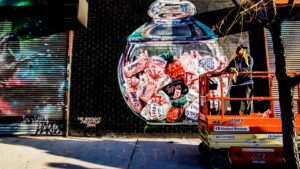 There is seriously so much amazing street art in Brooklyn to check out, but if you only have a little time and love the street art scene, you need to check out the Bushwick Collective, a giant open-air museum featuring works from street artists from all over. the globe.
This official 'collective' started in 2011 by a local, Joe Ficalora who used street art to help heal and deal with the passing of both of his parents and also transform the neighborhood of Bushwick with colorful, meaningful street art.
Since 2012, every June the Bushwick Collective hosts their annual Block Party which is when all of the new murals in Brooklyn pop up that are a part of the official collective. Some murals get covered and some remain around year after year, basically, they have to have nearby walls and buildings donated to use as a blank canvas.
Most of the Brooklyn graffiti and murals associated with the official collective can be found along Troutman Street between Irving Avenue and Cypress Avenue, there are more along Starr Street too. But we recommend following our complete guide to exploring the Bushwick Collective street art on your own to make sure you don't miss anything as this is one of our favorite things to do in Brooklyn.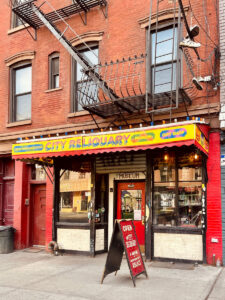 One of the more unique things to do in Brooklyn is visit The City Reliquary, a community-run, not for profit museum in Williamsburg focusing on the history of the 5 boroughs as well as a sort of shrine to all things New York City.
The museum's origins are even interesting starting in the first floor of an apartment in Williamsburg where the owner painted a map and directions to any nearby landmarks on the side of the building.
Some of the oddities you'll encounter here include everything from New York City rat bones, old postcards, fragments of historic landmarks in the city, and other random finds by the community all tied to New York City.
Also, be sure to check out their rotating exhibits they host throughout the year as well. In 2019, they housed a collection of artifacts from New York City Public Schools from the years of 1850-1970 with items like a dunce chair and classroom decorations.
Calling all beer connoisseurs, this next place and thing to do in Brooklyn is for beer lovers with an elevated palate. Tørst is a Danish-inspired taproom with 21 rotating taps and a daily food menu.
If you're not with the biggest beer drinker, no worries there are also craft cocktails and a selection of wines here as well.
This has become the 'it' spot to hang out in Greenpoint as the Nordic feeling interior feels like you're somewhere else across the globe.
Their menu, in general, is at a bit higher prTice point than other breweries, but if you're looking for an eclectic selection of brews paired with delicious bites then this is a fun place to check out.
Black Gold Records in Carroll Gardens is easily one of the best record stores in the city, many of the other best record shops in the city just couldn't survive, but Black Gold Records is still thriving.
Besides selling a great collection of records you can also shop antiques and grab a coffee all in this one dynamite location. The staff knows their stuff, so if you need help or personal flair to your shopping experience, you'll get it here.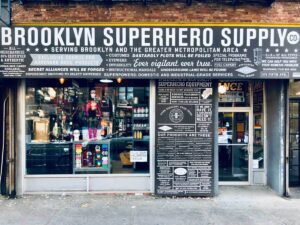 The Brooklyn Superhero Supply Store in Park Slope is a quirky shop selling superhero capes, masks, and supplies!
What kind of supplies you ask? How about a can of the speed of light, a jar of anti-matter, or a canister of invisibility? These novelty items aren't actually real, sorry spoiler alert! But they do make a fun gift for a co-worker, friend, or parent that needs some extra encouragement and recognition for the superhero they are.
What's even better about this place is that its actually a front for the 826NYC Foundation, a non-profit organization that provides after school tutoring and workshops for struggling students and youth. From helping non-native speaking children learn English to tutoring on any subject.
This place is truly a unique gem and thing to do in Brooklyn, so be sure to check it out and support an awesome cause.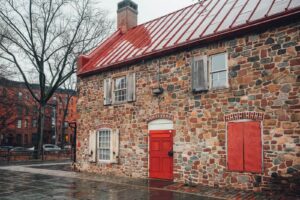 Located on the border of the Park Slope and Gowanus neighborhoods is the historic landmark, Old Stone House nestled in Washington Park right off of Park Slope's bustling 5th Avenue.
The Old Stone House is listed as a National Register of Historic Places monument and is a restored version of a Dutch stone farmhouse built in 1699 owned by Dutch immigrants who farmed the land here and harvested oysters.
The Old Stone House was an integral part of the 1776 Battle of Long Island, or the Battle of Brooklyn, the largest fight in the Revolutionary War. On August 27, 1776, the Old Stone House was where the Americans led and commanded the fight against the British and General Charles Cornwallis.
The Battle of Brooklyn was a loss for Americans, the British won this fight and occupied Brooklyn and Manhattan for seven years to come. However, George Washington and his troops escaped the British to fight again and win the war.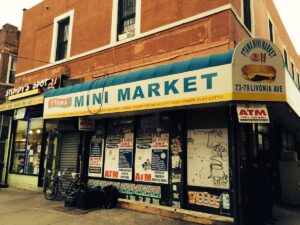 On the corner of Saratoga and Livonia Avenues in Brownsville, Brooklyn, there used to be a 24 hour candy store. 
During the 1930s and 40s, the Midnight Rose Candy Store, located under the elevated portion of the 3 subway train, was run by a little old lady in her 60s, Mrs. Rosie Gold. It's hard to imagine a more innocuous and unoffending picture. But all was not as it seemed at the Midnight Rose, for this was the secret headquarters of one of the most infamous and deadly groups in the history of organized crime: Murder, Inc. 
Murder Incorporated was created in the 1930s to act as the execution squad of the newly formed National Crime Syndicate. The death squad was comprised of mostly Jewish and Italian gangsters centered around the Brownsville neighbourhood of Brooklyn. Exact numbers aren't known, but it is estimated that Murder Inc., carried out 400-1000 executions, making the innocent looking candy store responsible for more murders than anywhere else in the United States. 
The National Crime Syndicate was the ruling elite of East Coast organized crime, counting amongst their ruthless members Lucky Luciano, Meyer Lansky, Bugsy Siegel and Dutch Shultz. Murder Inc. was run by  Louis "Lepke" Buchalter and Albert Anastasia, known as the 'Lord High Executioner'. The group of killers were paid a basic retaining salary and a freelancer fee for each hit of anywhere from $1,000 to $5,000. Rosie Gold kept a wall of pay phones along the back wall of the candy store; the members of Murder Inc., would pass the time at the Midnight Rose, sipping on Rosie's malted milks until one of the phones rang, giving the details of the hit.
The group included such cold blooded killers as Abe "Kid Twist" Reles, "Pittsburgh Phil" Strauss, Allie "Tic Toc" Tannenbaum, and Martin "Buggsy" Goldstein. As the murders were carried out by men unknown to the victims, Murder Inc., was able to remain unassociated with executions that took place all along the East Coast, and as far west as Detroit. Strangers were often dispatched at the whim of the National Crime Syndicate with the preferred weapon of choice for Murder Inc., the ice pick. 
The assassins eventually met their downfall in 1940 when "Kid Twist" Reles was caught by a police informant. Ratting on each of his colleagues, the majority of members of Murder Inc., would go on to meet their own grisly ends in the electric chair at Sing Sing. On November 12th, 1941, whilst staying at the Half Moon Hotel in Coney Island under 24 hour police supervision, Kid Twist was found dead after falling seven stories from his room. The case was never solved, but it seems likely that he paid the price for turning informant. As one member of the National Crime Syndicate is supposed to have said of Reles, "the canary could sing, but he couldn't fly."
With most of its members in prison or executed, Murder Inc., faded into memory; but is immortalized in film, literature, and television shows such as "Boardwalk Empire" and Neil Kleid & Jake Allen's comic book "Brownsville" (2006), their name has passed into legend.
Rosie Gold disappeared into obscurity, but her corner candy store is still there, on the corner of Saratoga and Livonia. For the past three years it has been a 24 hour bodega. The current owner when interviewed had no idea that his corner deli was once the headquarters of one of  the most feared collection of assassins in American history. The row of telephones have gone, and with it the ring of an incoming call that would have meant the end of someone's life at the deadly hands of Murder Incorporated.