New Newsletter Contest Winner Announced

Beginning now there will be a newsletter contest and all lodges will be eligible to win!
Simply, insert the exact statement; "Lodge name– Supports a Dementia Friendly Society" as a permanent part of your lodge newsletter's masthead.
Submit your newsletters to me, Dirk Hansen  hansenoaks@lowcountry.com   Submissions will be judged on prominence and overall appearance.  A $100 donation will be made to the 3rd District Charitable Trust in the winning Lodge Editors name.  Sorry, Southern Star is not eligible even though they have already begun to do this.
Well you have seen the above information about the Newsletter Contest for several issues of the TDT.  As TDT editor and member of the Charitable Giving Committee I want to thank all of the District 3 Editors who participated in helping to get the word out about Alzheimers/ Dementia Awareness.  But there can only be one winner.  But hold on– We have a tie!
Kimberly Breiland 3-243
Kaare Hansen 3-467
Both editors will have a 100$ donation made in their names to the Charitable Trust.
Speaking of getting the word out:
The following is one of our District 3 Lodge Presidents monthly messages as it appeared in their newsletter this year.
Hello all!
I hope that everyone is OK after Hurricane Ian swept through. If you need help cleaning up, please let one of us or one of the Board members know. We had a great kickoff meeting in September!
We recapped both the District 3 Convention and the International Convention as well as other topics of interest.
As I mentioned in my last message, one of the pillars that Sons of Norway was built upon was Fraternal. This drives us to take into consideration charitable works. In our September meeting, the attendees agreed that during our October meeting we will take a short walk down The Plaza and back as our way to participate in Charlotte's Alzheimer's Walk. With October 7 being the day District 3 chose to focus on charities and with District 3 also choosing to support organizations who are working hard to find causes and cures for dementia, we thought we could do both at the same time. Note that our meeting is on October 15 but it is close enough to the designated date. We would also encourage you to make a contribution to the Alzheimer's Association by either donating on your own or by writing a check to Norsk Carolina designating the donation to the Alzheimer's Association. Norsk Carolina will send in all donations and will be making a donation as well. As of now, we have not set up an official "Walk from Home" team but will consider doing so prior to our walk as it might make it easier to make donations.
In addition, Sons of Norway has designated October as Sons of Norway Foundation Month. One way to support Sons of Norway's Foundation is to donate when you renew your membership. They make it easy to do so at that time. It is equally as easy to donate to the 3rd District Charitable Trust by going to the 3D website at Sons of Norway Third District (3dsofn.org) and look for Charitable Giving on the menu at the top of the page. Information about all of these charitable causes can be found there.
I hope we have a good turnout on October 15! I don't want to walk alone! When we come back from our walk, we will have refreshments in our usual meeting place at Holy Trinity.
Looking forward to seeing you on October 15 at 4:00 pm!
Fraternally,
Ruth Campbell President,
Norsk Carolina Lodge
Could not have been said any better.  The Charitable Giving Committee thanks you.
More Alzheimers Walks
Gateway to Florida 3-541
ALZHEIMER'S WALK FOR JACKSONVILLE Alzheimer's Walk for Jacksonville is on Sat. Nov. 5 at the UNF J.B. Croxwell Amphitheater at 1 UNF Dr. Jax, 32224 Lets try to reach for a goal over $500.00 Registration is at 8 a.m. (for those who didn't preregister online for the walk) but plan to be there at 8:30 by the Promise Garden Flower as it's easy to find. The Ceremony is at 9 a.m. and the walk follows immediately. The walk is only a mile and will only take about 20-25 minutes. Afterwards meet at Iverson's for a picnic lunch. The walk is on rain or shine unless it's a bad storm and announcements will be sent to the teams by email. (It happened last year as it was postponed until December). To get online to register and donate: www.act.alz.org; Find the team: Sons of Norway-Gateway Lodge to Florida and it may have my name as team leader: Ellen Wallwork. Press donate- no credit card donations of less than $10.00. I can access the page to see how the donations are going. If you get donations of $100.00 under your name you will earn a T-shirt.. The T-shirt will be sent after the walk. Ellen Wallwork
Hudson Valley 3-432
Norrona 3-467
Dear District 3 board Members,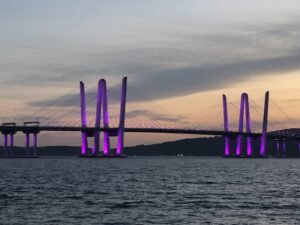 I wanted to share with you the attached photo of the Mario Cuomo Bridge lit up with purple lights to support the Hudson Valley's walks to end Alzheimer's.
Pat and I were able to enjoy the view on Wednesday, September 21st at Horan's Landing in Sleepy Hollow, NY. The event was well attended by supporters from Westchester and Rockland Counties.
There were speeches, music, food and drink and enthusiasm for a worthy cause.
Norrona Lodge 3-467 has a team that will walk on Sunday, October 16th at Clover Stadium in Pomona, NY.  We are walking in support of our beloved brother, Roy Johnsen. He is 97 years old and a 72-year member of Sons of Norway. 
Our team goal is to raise $2500.00 this year and we are well on our way. If you would like to help us attain our goal by making a donation, please click on the link below.
Thank you all for supporting our efforts this year.
Fraternally,
Kaare