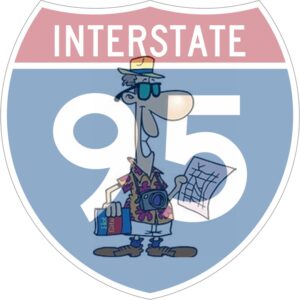 Its almost convention time and soon some of you from the North will once again be making your pilgrimage south for the District Meeting in Jacksonville.  Things have changed some but there is still that beacon of hope that your journey is coming to its end.  Its just not what it used to be.
South of the Border is an attraction on Interstate 95 and US Highway 301/501 in Dillon, South Carolina, just south of Rowland, North Carolina. It is so named because it is just south of the border between North Carolina and South Carolina and is themed in tongue-in-cheek, faux Mexican style. The rest area contains restaurants, gas stations, a video arcade, and a motel, and truck stop as well as a small dilapidated amusement park with no operating rides but a mini golf course still in commission, shopping and fireworks stores. Its mascot is Pedro, a caricature of a Mexican bandido.
The entire motif of South of the Border can be described as intentionally campy. South of the Border is located at the intersection of Interstate 95 and 301/501 just south of the border between South Carolina and North Carolina. The site is a 350-acre (140 ha) compound that contains a miniature golf course, truck stop, 300-room motel, multiple souvenir shops, a campground, multiple restaurants, amusement rides, and a 200-foot (61 m) observation tower with a sombrero shaped observation deck.  It is also home to "Reptile Lagoon," the largest reptile exhibit in the US.
Architectural features include "a Jetsonsesque starburst chandelier" in the lobby and Mimetic. Pedro's Pleasure Dome is a swimming pool inside "a junkyard version" of a geodesic dome. A Washington Post review says, "Flashing signs … throw technicolor pink and green and blue onto every surface. No destination or sentiment is too small to be blared out in bright orange."  Numerous large statues of animals such as dolphins, horses, dogs, gorillas and dinosaurs can be found. The Peddler Steakhouse, the nicest of the restaurants, is shaped like a sombrero, while the Mexican-themed Sombrero restaurant is not, though its décor includes sombreros, cactus and terra cotta, with lots of lime green. There are areas that bring to mind the photography of William Eggleston, the cinematography of David Lynch, and the gas station art of Ed Ruscha.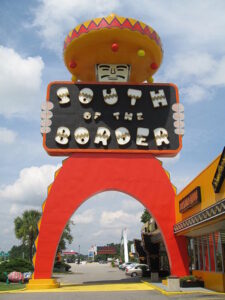 Initially, Schafer only employed sombreros and serapes to advertise South of the Border.  Schafer went to Mexico because of his import business and came back with two men he hired as bellboys, who people began calling Pedro and Pancho. From there, the Pedro mascot developed.  Schafer eventually created Pedro, to add to the exotic element and theme of the attraction. Pedro is an exaggerated, cartoon-like representation of a Mexican bandito.  Pedro wears a sombrero, a poncho and a large mustache.  Minstrel shows were still popular in Dillon County in the 1940s and 50s, at about the time Pedro was created and P. Nicole King argues Pedro embodies the way in which people exoticized Mexico or Mexicans at the time while also remaining intentionally campy. Pedro has likewise been referred to as culturally offensive, politically incorrect or racist.  P. Nicole King described Pedro's image as a "southern Jewish guy in brown face" that was perhaps made, partially, in Schafer's image.  Schafer himself had previously dismissed criticism that Pedro is an unfair characterization of Mexicans arguing it's a light-hearted joke.  
Today, all South of the Border employees, regardless of race, creed or color are referred to as Pedro.
The opening scene of Season 3, Episode 5 of Eastbound & Down shows characters Eduardo Sanchez Powers and Casper robbing a Mexican store leading the viewers to believe they were still in Mexico. The scene later reveals they were actually robbing the gift shop at South of the Border and are now traveling in the United States.