No. 5-  Nothing says Scandinavian more than a guy in a sweater sailing around in New York harbor on a Viking Longship smoking a cigar.  View this iconic TV ad for Erik little cigars here.
No. 4– Tales of the Vikings is an American first-run syndicated television series, first telecast on 8 September 1959 and ran through June 2, 1960. The series was produced by Kirk Douglas' production company, Brynaprod.
Set in tenth century Scandinavia, the series presented the seafaring exploits of Viking chief Firebeard and his two sons, Leif and Finn.
Guest stars for the thirty-nine episode run included: Christopher Lee, Patrick McGoohan, Robert Alda, and Edmund Purdom.
In 1949 Douglas founded his own company, Bryna Productions, named after his mother. Tales of the Vikings was the company's first venture into television. The series, like the Douglas' 1958 film The Vikings, was shot in Europe and used footage, sets, props, and costumes from the film. It was filmed in black and white, and distributed by United Artists Television.  Since Tales of the Vikings aired in syndication, air dates varied from one TV station to another during the 1959-1960 season. It also aired on British television, and in 1962 in Finland.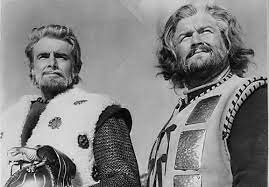 Courtland has his hair and beard dyed blond for the series. Ryan O'Neal got his start on Tales of the Viking. His parents, who were living abroad at the time, got the teenager a job as a stuntman, under veteran John Sullivan, learning fights, falls, and duels.  The theme song was written by Bert Grund with lyrics by Sid Morse.
Firebeard, Viking chieftain – Stefan Schnabel
Leif, Firebeard's younger son – Jerome Courtland
Finn, Firebeard's elder son – Walter Barnes
Haldar, Viking crewman – Buddy Baer
No.3-  The Vikings is a 1958 epic historical fiction swashbuckling film directed by Richard Fleischer and filmed in Technicolor. It was produced by Jerry Bresler and stars Kirk Douglas. It is based on the 1951 novel The Viking by Edison Marshall, which in turn is based on material from the sagas of Ragnar Lodbrok and his sons. Other starring roles were taken by then husband-and-wife Tony Curtis and Janet Leigh as well as Ernest Borgnine. The film made notable use of natural locations in Norway. It was mostly filmed in Maurangerfjorden and Maurangsnes, captured on film by cinematographer Jack Cardiff, although Aella's castle was the real Fort-la-Latte in north-east Brittany in France.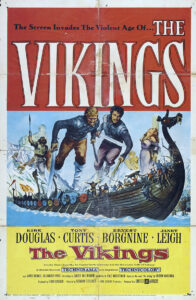 Despite being derisively called a "Norse Opera" by New York Times critic Bosley Crowther, the film proved a major box office success and spawned the television series Tales of the Vikings, directed by the film's editor, Elmo Williams, which included none of the original cast or characters.
Did You Know: Kirk and Tony made a deal during the filming.  Since Kirk killed Tony in Spartacus, Curtis would get to kill Douglas in The Vikings.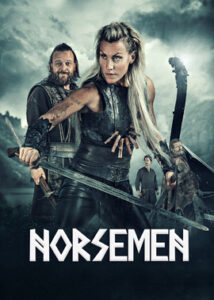 No 2.  This is "Must Watch Television"  Norsemen is a Norwegian comedy television series about a group of Vikings living in the village of Norheim around the year 790. It originally premiered in Norway under the name Vikingane (The Vikings) on NRK1 in October 2016. It is produced for NRK by Viafilm. The series is written and directed by Jon Iver Helgaker and Jonas Torgersen.
The series is filmed in the village of Avaldsnes in Karmøy municipality, Rogaland, Norway, and it was recorded simultaneously in both Norwegian and English-language versions by filming each scene twice.
In September 2020, it was announced that the show had been canceled and would not return for a fourth season.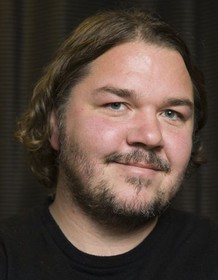 Nils Jørgen Kaalstad as Arvid, can be seen as Steven Van Zandt's driving instructor in Lillyhammer.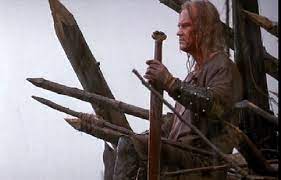 No. 1- The 13th Warrior is a 1999 American historical fiction action film based on Michael Crichton's 1976 novel Eaters of the Dead, which is a loose adaptation of the tale of Beowulf combined with Ahmad ibn Fadlan's historical account of the Volga Vikings. It stars Antonio Banderas as Ahmad ibn Fadlan, as well as Diane Venora and Omar Sharif. It was directed by John McTiernan. Crichton directed some uncredited reshoots. The film was produced by McTiernan, Crichton, and Ned Dowd, with Andrew G. Vajna, James Biggam and Ethan Dubrow as executive producers.   Absolutely the best.  This movie has it all!
Honorable mention-  History Channels "Vikings"  (Before Travis Fimmel leaves the show)  Even Ivar the Boneless' insanity couldn't salvage the later seasons.  The followup "Vikings Valhalla wasn't too bad though.