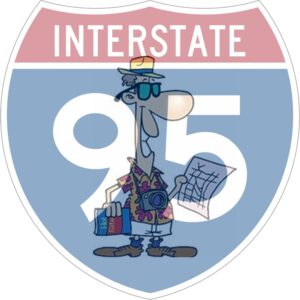 Buy Me Some Lefse and Crackerjack
By the time March rolls around, many of you are probably ready for a break from winter.  The following just might be the ticket for a 3rd District "Business With Pleasure Vacation".
Tampa Lodge 3-515 Meets Second Wednesdays at 6:30
Grace Lutheran Church at Carrollwood.
3714 W. Linebaugh Ave  Tampa, FL
Suncoast Lodge 3-562 Meets Second Sunday at 3:00
Waters Edge Condominium Clubhouse
11485 Oakhurst Rd  Largo FL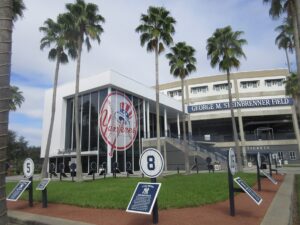 George M. Steinbrenner Field (formerly known as Legends Field), is a baseball stadium located in Tampa, Florida across Dale Mabry Highway from Raymond James Stadium, home of the National Football League's Tampa Bay Buccaneers. The ballpark was built in 1996 and holds 11,026 people with an addition in right field built in 2007.  This ballpark is the largest spring training ballpark in Florida.
George M. Steinbrenner Field serves as the home of the Tampa Tarpons, the New York Yankees' affiliate in the Low-A Southeast, and is the Yankees' spring training home.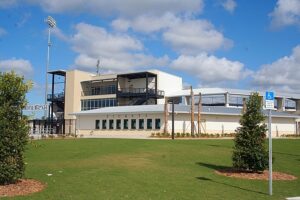 Charlotte Sports Park (formerly known as Charlotte County Stadium and Ranger Stadium) is a baseball stadium in Port Charlotte, Florida. The
stadium is the home field for Tampa Bay Rays spring training operations, as well as its Rookie-class Gulf Coast Rays teams. From 2009 to 2020, it also hosted the Charlotte Stone Crabs of the Class A-Advanced Florida State League.
Originally built in 1987, the main stadium underwent a renovation that was completed in January 2009 at a cost of $27 million.
Prior to the Rays, the stadium was home to Texas Rangers spring training exhibition games and the team's minor league affiliate Charlotte Rangers. The ballpark has also hosted college baseball tournaments and the South Coast League Charlotte County Redfish.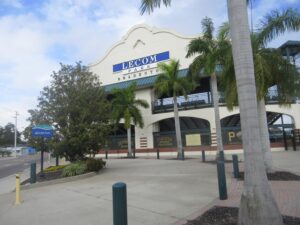 LECOM Park is a baseball field located in Bradenton, Florida. It is the spring training home of the Pittsburgh Pirates and is named after a 15-year naming rights deal was signed with the Lake Erie College of Osteopathic Medicine, which has its main campus in Erie, Pennsylvania, and also a campus in Bradenton.  It was formerly known as McKechnie Field, named for Bradenton resident and Baseball Hall of Fame great Bill McKechnie, who led the Pirates in 1925 and the Cincinnati Reds in 1940 to World Series titles. He was also a coach with the Cleveland Indians in 1948. 
Several members of the Baseball Hall of Fame, such as Bert Blyleven, Roberto Clemente, Willie Stargell, Bill Mazeroski, Roberto Alomar, Wade Boggs, Roy Halladay, Jack Morris, Mariano Rivera, Ivan Rodriguez, Babe Ruth, Mike Schmidt and Ted Williams, have played at LECOM Park
BayCare Ballpark (Bright House Field) is a baseball stadium located in Clearwater, Florida, in the United States. The stadium was built in 2004 and has a maximum seating capacity of 8,500 people (7,000 fixed seats with additional grass berm seating for 1,500).
The ballpark is the spring training home of the Philadelphia Phillies, and also the home of their Class A affiliate, the Clearwater Threshers of the Low-A Southeast. A sculpture titled The Ace—by artist Kevin Brady—stands at the ballpark's west entrance plaza.
Sarasota Lodge 3-539 Meets 3rd Sunday at 3:00
Faith Lutheran Church
7750 Beneva Rd  Sarasota, FL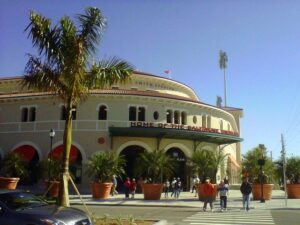 Ed Smith Stadium is a baseball field located in Sarasota, Florida. Since 2010, it has been the spring training home of the Baltimore Orioles.
Ed Smith Stadium was built in 1989 to replace Payne Park as a Spring Training and Minor League Baseball site. It is named for the Sarasota civic leader who was instrumental in getting the new stadium built.  It was formerly the spring home of the Chicago White Sox (1989–1997) and the Baltimore Orioles (1991). In 1998, it replaced Plant City Stadium as the spring training home of the Cincinnati Reds. The Reds remained at the facility through 2008. After Cincinnati's club moved its spring activities to Arizona, Ed Smith Stadium spent a year without major league Spring Training.
The Orioles became the stadium's tenant and operator in 2010.  Baltimore had trained in Sarasota before—at Twin Lakes Park in 1989 and 1990, as well as at Ed Smith in 1991—before moving to St. Petersburg and then Ft. Lauderdale for spring games.
From 1989 to 2009, the stadium hosted a series of Minor League Baseball teams, the Single-A Sarasota White Sox, Sarasota Red Sox, and Sarasota Reds. From 2004 until 2009, it housed the Gulf Coast League's Gulf Coast Reds. Ed Smith has also hosted high school and college tournaments.
On November 1, 2008, Barack Obama gave a speech to a crowd  of 10,000 spectators as part of his 2008 presidential campaign.
Scandia Lodge 3-617 Contact for Day and Time
The Club at Longshore Lake.  11399 Phoenix Way Naples FL
Gulf Coast Vikings 3-683 Contact for Day and Time  239-405-4026 or 239-267-8339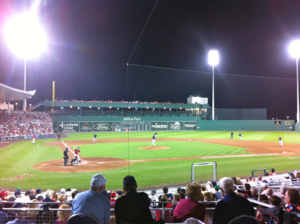 JetBlue Park (also styled as jetBlue Park) is a baseball park in Fort Myers, Florida, part of the Fenway South training and development facility.
Opened in March 2012, it is primarily the spring training home of the Boston Red Sox, replacing earlier separated facilities at City of Palms Park and Boston's former (1993–2011) minor league complex, also located in downtown Fort Myers.  The naming rights were purchased by JetBlue, an airline with major operations at Boston's Logan International Airport since 2004.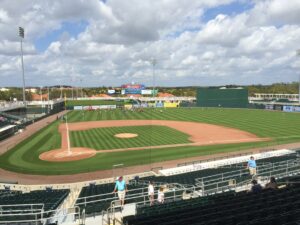 Hammond Stadium is a baseball field located in the CenturyLink Sports Complex in South Fort Myers, Florida, United States. The stadium was built in 1991, and underwent major renovations in 2014 and 2015.
The spring training home of the Minnesota Twins saw its seating capacity increased from 7,500 to 9,300 in the spring of 2015.  Class A Advanced affiliate, the Fort Myers Mighty Mussels, of the Florida State League finished out their 2014 season and FSL championship at JetBlue Park (Spring home of the Boston Red Sox, also in Fort Myers) in order to get the renovations done in time for catchers & pitchers to report in 2015. The renovations will also increase the amount of walkable area, provide more shaded areas for sunny games and an expanded gift shop, among other amenities for fans and players.