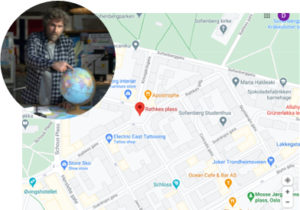 The story actually started way back in 1977, when sculptor Ola Enstad won a competition under the auspices of the Norwegian Cultural Council with a sculpture that resembled a stegosaurus, and which also served as a climbing frame for children.
Stego, as the artwork was called, was placed on Rathke's square on Grünerløkka. A signature campaign from residents who thought it was ugly and dangerous for children, led it to Torshovdalen for a while. There it stood between the silo and Sinsenkrysset.
But even there, some fearful or outraged neighbors gathered against Stego, who was rammed at night. It was therefore moved again, this time behind a fence in Geitmyra school gardens by Nordre gravlund.
Dino bullying continued here as well. Stego was then packed down and put on one of the Park Service's barns in Oslo.
In 1991 it was sent to the Department of Rejected Art at the County Gallery in Sogn og Fjordane. There it was placed in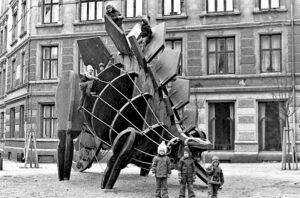 the river Jølster, and rotted in the course of nine years. In 2000, it was thrown on the landfill there.
In 1998, the residents of Rathkes gate regretted it, and together they got the famous egg placed in a water basin on the square where Stego had stood.
One night in 2008, the egg was STOLEN. Three men were caught on the peach by a vigilant neighbor, who photographed Kasper, Jesper and Jonathan as they carried the egg with them. The police came and ordered the egg placed where they found it, before it went straight into the custody of Chief of Police Bastian. After this, the egg has been left alone.