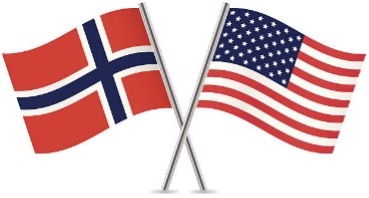 It's May and Mother Nature is doing what she usually does in Spring. Cool one day – warm the next…. But I'm pleased to see the dogwoods and Japanese cherry trees coming out, I don't mind the spring rain, and I'm happy to be out and about.  It's looking good after the 2 years we've had but I want to say our District has come through like troopers. YOU ALL are to be congratulated for keeping your membership active, making efforts to get to meetings – whether by Zoom or onsite – sending me emails to just talk about your lodges and what you're doing to move forward.  As you've seen we can get together and see each other, talk and share, enjoy some good programming both online and in person.
There are dates in this month that we can celebrate. Time to fly the Norwegian Flag. May 8th Norwegian Liberation Day (known in Norwegian as Frigjøringsdagen) and International Viking Day, honor Mom on May 8th Mother's Day, Hurrah for May 17th. The 17th has many names (syttende mai (17th of May), Nasjonaldagen (The National Day) or Grunnlovsdagen (The Constitution Day) so what better time to fly your Norwegian Flag.  As Norway's most celebrated holiday, Syttende Mai honors the anniversary of the signing of the country's constitution in 1814. Over time, the day and what it represents to the people of Norway has evolved greatly. Historically, May 17 was a day of politics marked by speeches and rallies; today it is filled with national pride, festivities, and tradition.
Each year, thousands of people in Norway—and around the world—take part in waving Norwegian flags, marching in city parades and professing their love of Norway. Many of today's festivities are centered on music, food, children, and graduating high school students. (For more facts about Syttende Mai and details on how the day is celebrated, the Sons of Norway blog at www.sofn.com/blog/syttende-mai-10-fun-facts)
Memorial Day, May 31st, is a US federal holiday remembering the people who died while serving in the armed forces and marks the start of the unofficial summer vacation season. Let's fly the American Flag proudly.
Then in a short few weeks, we will gather in Jacksonville for Tremendous Third's Meeting/Convention. Has your lodge sent in their journal ad?? How about the booster list, a welcome to all those who are there to guide the District?? Support your delegates as they are there for you, your lodge and the District. I'm excited about this convention, I hope you are too….
My great thanks to those delegates who have taken the responsibility of being on our meeting committees. Again, going above and beyond.
Hurra ,  Gratulerer med dagen, and Enjoy the summer.
Fraternally, Kathy