Norwegians take firewood seriously.
So seriously that a prospective suitor might do well to get his woodpile in order before popping the question.
"You can tell a lot about a person from his — or her — woodpile," said writer and journalist Lars Mytting.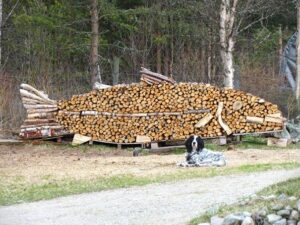 He would know. Mytting, who lives in southern Norway's heavily wooded snow forest, is the author of last year's runaway, European best-seller, "Norwegian Wood: Chopping, Stacking and Drying Wood the Scandinavian Way." It's a lyrical compendium of practical advice on a subject that has obsessed Scandinavians for centuries.
"It's recorded back to the Viking era," Mytting said. "So, we have quite a developed knowledge on how to get properly seasoned firewood." 
That includes not just felling, hauling and chopping their own wood but also — crucially — stacking it for proper seasoning.
In a country in which 25 percent of homes are heated with wood — half of it chopped by homeowners — a good woodpile is both a necessity of life and a measure of character. And yes, Mytting said previous generations of women really did know how to read a man's stack.
In "Norwegian Wood," he offers the following guidelines:
Upright and solid pile: Upright and solid man

Low pile: Cautious man, could be shy or weak

Tall pile: Big ambitions, but watch out for sagging and collapse

Flamboyant pile, widely visible: Extroverted, but possibly a bluffer

Unfinished pile, some logs lying on the ground: Unstable, lazy, prone to drunkenness

Old and new wood piled together: Be suspicious: might be stolen wood added to his own

Pedantic pile: Perfectionist with too much time on his hands (or perhaps waiting for the right woman?)
In some cases, though, truly flamboyant piles are encouraged and celebrated. Norwegian newspapers run annual photo competitions to pick the best and most unusual local woodpiles, which are "liked" by hundreds on Facebook. Labyrinths of stacked and split logs are popular, Mytting says, as are abstract and figurative sculptures.
Perhaps the greatest ornamental wood stacker in the country is Ole Kristian Kjelling, Kjelling is a retired electrical engineer who made headlines throughout Norway in 2012 when he constructed a giant woodpile portrait of Queen Sonja and King Harald V for the 75th royal anniversary. (Kjelling had previously rendered the composer Rossini, as well as his local mayor, in woodpiles.)
"He's in the master class of woodpilers here in Norway," said Mytting. "He's old and has lots of time, so I forgive him. And he's already married."
Beyond the practical and aesthetic value of a well-stacked woodpile, the Norwegian way of wood has a deeper meaning. 
"It's a way to honor the material and a reminder that nothing lasts forever," he said.
 Like humans, wood deteriorates with age, he adds, "So, you need to burn it while it's still young and beautiful."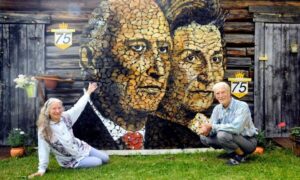 What you are looking at here, believe it or not, is stacked firewood which has been shape stacked and then painted on the ends to portray a picture of the Norwegian King and Queen in celebration of their 75th birthdays.  It was created by 80 year old Ole Kristian Kjelling from Stor-Elvdal in Hedmark Norway.
My thanks to Wisconsin Public Media for permission to use their article as part of this post.
Click here to view their article in its entirety and to visit their website.