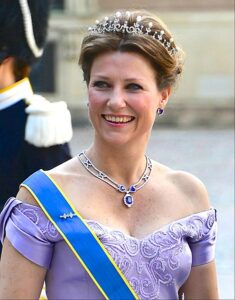 Princess Märtha Louise of Norway (born 22 September 1971) is a Norwegian self-described clairvoyant and the only daughter and elder child of King Harald V and Queen Sonja. She was married to the late writer and visual artist Ari Behn from 2002 to 2017.
She is fourth in the line of succession to the Norwegian throne, after her brother Haakon, and his children, but is not a member of the royal house.  Like her aunts Ragnhild and Astrid, she had no inheritance rights to the Norwegian throne at the time of her birth due to Norway's agnatic primogeniture succession. This only changed in 1990, when the Norwegian parliament adopted male-preference primogeniture succession for those born before 1990, which made her third in line at the time, after her younger brother.
She is active as a private businesswoman and alternative therapist, with few official public engagements.  From 2007 to 2018 she led her own alternative therapy center, commonly known in Norway as the "angel school" (Norwegian: engleskolen), which provided training in clairvoyance and communication with angels and communication with the dead.  In May 2019 she publicly announced her romantic relationship and professional collaboration with Durek Verrett, a self-described shaman.
Princess Märtha Louise was born on 22 September 1971 at The National Hospital the Oslo University Hospital in Oslo, to the then Crown Prince Harald and Crown Princess Sonja. Princess Märtha Louise was named after her late grandmother and her paternal great-great grandmother. At birth, she was not in line to the throne, because until 1990, only males could inherit the Norwegian throne (Salic law). She was christened a few months after her birth. Her godparents are King Olav V of Norway, Princess Margaretha of Sweden, Count Flemming of Rosenborg, Princess Ragnhild of Norway, Dagny Haraldsen, Haakon Haraldsen, Nils Jørgen Astrup and Ilmi Riddervold.
In 1973, Märtha Louise's younger brother, Haakon Magnus, was born. In 1990 the Norwegian constitution was altered, granting full cognatic primogeniture to the Norwegian throne, meaning that the eldest child, regardless of sex, takes precedence in the line of succession. This change only affects those born in 1990 or later. Females born between 1971 and 1990 (i.e. only Märtha Louise), were given succession rights, but their brothers would be before them in the line of succession, meaning that Prince Haakon still took precedence over Märtha Louise in the line of succession.
After the births of her brother's two children, Ingrid Alexandra and Sverre Magnus, Märtha Louise was relegated to fourth in line.
Princess Märtha Louise is a certified physiotherapist, following education in Oslo and internship in Maastricht, the Netherlands. She has not practised her profession, however, choosing instead, from her fascination in traditional Norwegian folk tales as well as a love of music, to establish her own commercial entertainment business based on giving public and televised performances reciting folk tales and singing with well-known Norwegian choirs.  In December 2003, she took part in Oslo Gospel Choir's Christmas concert with a solo performance, included on the companion CD album.
On 1 January 2002, Princess Märtha Louise started her own business, in order to work with more freedom from her constitutional role as a princess. She began paying income tax, and the King, after consulting her, issued a royal edict which removed Princess Märtha Louise's style of Royal Highness (she is conventionally accorded the lesser style Highness abroad, although this style has no legal standing in Norway). However, she retains her place in the line of succession, and though her activities were reduced, she still carries out some public duties on behalf of the King.
After several postponements due to family births and her father's illness, during which the princess took on some representation duties, Princess Märtha Louise and her husband moved to New York City in October 2004.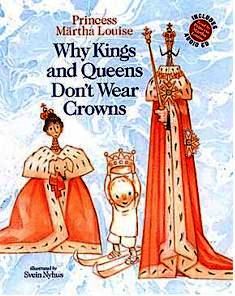 In 2004, her first book, a children's story about the first royal family of Norway was released – Why Kings and Queens Don't Wear Crowns. Accompanying the book is a CD version of the Princess reading her story aloud.  The story is about her grandfather, King Olav V, when he first came from Denmark to Norway. It tells about how difficult it was to wear crowns while cross country skiing amongst other typical Norwegian winter activities. The illustrations in the book are made by the Norwegian artist Svein Nyhus.