October is Sons of Norway Foundation Month
October is Foundation Month at Sons of Norway. Please help us celebrate and support the services that the Sons of Norway Foundation provides to members. Annually, We provide over $35,000 in grants to lodges and partners that advance the core values of Sons of Norway and over $110,000 in scholarships to members, the children of members, and the grandchildren of members. We would not be able to provide this assistance without you!
Scholarship applications are open as of October 1.  This year Sons of Norway is offering 16 different scholarships, including, for the first time, the Elaine Nelson Scholarship for student members studying Business, Agriculture, or Education. You can find descriptions of all the scholarships offered and apply for them on the Sons of Norway Scholarship page. We encourage everyone to visit the site to learn more and facilitate applications.
Donating to the Foundation is an opportunity to incorporate your passion for the Sons of Norway into your charitable giving plans. This year with our "Together We are the Future" fundraising campaign, we are trying to raise $150,000 to support our grants and scholarship.  Visit Sons of Norway Foundation to learn more and donate!
3rd District Alzheimers/Dementia Awareness Events

Kaare Hansen and Norrona Lodge 3-467
are leading the way to Alzheimer's first survivor by participating in the Alzheimer's Association Walk to End Alzheimer's. Currently, more than 5 million Americans have Alzheimer's and that number is expected to grow to as many as 16 million by 2050. Our future is at risk unless we can find a way to change the course of this disease.
Together, we can end Alzheimer's disease. Please make a donation to advance the care, support and research efforts of the Alzheimer's Association.
Thank you for joining the fight against Alzheimer's!
Nor-Bu Lodge 3-427
Nor-Bu is participating in the Walk to End Alzheimer's, and we would love to have you join us!!
It takes place on Sunday, October 24th, and registration starts at 8:30am. A brief Ceremony is at 9:30am, and the Walk itself will start at 10:00am.
We would love to have you join us!! Click on the banner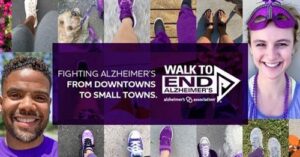 to sign up and/or donate, or send a message to Dawn Green
with any questions or for help with registration.
Everyone is welcome to participate, whether you can walk or not. Some people will just be showing up for moral
support and that is fine. Donations alone are also very welcome!!
Following the Walk, there will be a lunch at Nor-Bu Lodge starting at 12pm.
10. Norskevenner Lodge Update October 6, 2021

Please email hansenoaks@lowcountry.com with any future plans your Lodge has in support of Alzheimers/Dementia Awareness, The 3rd District Charitable Trust and The Sons of Norway Foundation  
Aducanumab (Aduhelm™) has received accelerated approval as a treatment for Alzheimer's disease from the U.S. Food and Drug Administration (FDA). This is the first FDA-approved therapy to address the underlying biology of Alzheimer's disease. 
It is the first therapy to demonstrate that removing amyloid, one of the hallmarks of Alzheimer's disease, from the brain is reasonably likely to reduce cognitive and functional decline in people living with early Alzheimer's.
Approval of this therapy underscores the importance of early detection and accurate diagnosis. We encourage people who are interested in learning more about this treatment, for themselves or a loved one, to have a conversation with their health care provider.
Is aducanumab a cure for Alzheimer's and all other dementia?
No. Aducanumab is the first drug to address the underlying biology of the disease. According to the FDA, aducanumab reduces amyloid plaques, which is reasonably likely to lead to a reduction in clinical decline due to Alzheimer's disease.
This could mean more time for individuals to actively participate in daily life, have sustained independence and hold on to memories longer.
Who should take this drug?
Aducanumab is indicated for the treatment of Alzheimer's disease. Treatment with aducanumab should be initiated in patients with mild cognitive impairment (MCI) or mild dementia stage of disease, the population in which treatment was initiated in clinical trials.​
Aducanumab was studied in people living with early Alzheimer's disease and MCI due to Alzheimer's who showed evidence of a buildup of amyloid plaques in the brain. There is no safety or effectiveness data on initiating treatment at earlier or later stages of the disease than were studied.
Will this drug restore memories or cognitive function that has been lost?
There is no evidence that aducanumab can restore lost memories or cognitive function.
What type of diagnostic test is the FDA requiring?
The FDA is not requiring any specific diagnostic test. However, the label says aducanumab is indicated for the treatment of Alzheimer's, based on reduction in amyloid beta plaques, one of the hallmarks of the disease. This means that a physician should confirm the presence of amyloid plaques in the brain before prescribing this anti-amyloid plaque treatment.
Confirmatory tests like cerebrospinal fluid analysis or amyloid PET imaging should be a part of the diagnostic process to determine eligibility for the treatment.
How do I receive this treatment?
If you or a loved one is experiencing memory changes, the Alzheimer's Association strongly encourages speaking with a health care provider for a thorough evaluation and diagnosis. Aducanumab may be a treatment option.
How is this drug administered?
Aducanumab is administered intravenously (IV) via a 45- to 60-minute infusion every 4 weeks. Infusion can be done at hospitals or infusion therapy centers.
When will it be available at my doctor?
Now that aducanumab is approved, nationwide distribution and implementation will take some time.
What are the side effects?
The most common side effects include amyloid-related imaging abnormalities (ARIA), headache and fall. Another potentially serious side effect is allergic reaction. ARIA is a common side effect that does not usually cause symptoms but can be serious. It is typically a temporary swelling in areas of the brain that usually resolves over time. Some people may also have small spots of bleeding in or on the surface of the brain with the swelling, although most people with swelling in areas of the brain do not have symptoms. Some may have symptoms of ARIA such as headache, dizziness, nausea, confusion and vision changes.
Can I take this drug with my other medications/supplements?
When considering any treatment, including aducanumab, it is important to have a conversation with your health care provider to ensure you are a candidate for the treatment. This includes taking into account other health conditions, medications or supplements.
How will COVID-19 impact my ability to get this treatment?
Throughout the pandemic, our health care systems have adapted. People have continued to receive treatments, including infusions such as chemotherapy, with extra precautions such as social distancing and wearing a mask. Talk to your doctor to find out if aducanumab is right for you or a loved one, and discuss a plan to identify extra precautions for COVID safety.