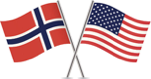 May is a pretty month here in the Northeast. It is also a busy month. There are dates in this month that we can celebrate. It's time to fly the flags. May 8th Norwegian Liberation Day (known in Norwegian as Frigjøringsdagen) and International Viking Day, honor Mom on May 9th Mother's Day, Hurrah for May 17th.. The 17th has many names – syttende mai (17th of May), Nasjonaldagen (The National Day) or Grunnlovsdagen (The Constitution Day) so what better time to fly your Norwegian Flag. Memorial Day, May 31st, is a US federal holiday remembering the people who died while serving in the armed forces and marks the start of the unofficial summer vacation season.
I'm pleased and proud to say the Norwegian Flag will fly over Philadelphia City Hall on May 17th and I will be attending the ceremony. If your lodge is meeting whether by Zoom or in person this is a great month to provide a history of our organization (126 yrs) and the reason behind organizing. Recounting the history of our organization is a perfect way to celebrate and reaffirm the enduring power of Sons of Norway. Our values of trust respect, and care are as essential today as ever before.
Here in my part of Pennsylvania, it is azalea time, dogwoods budding time, cherry blossoms time, daffy-dills, hydrangeas, the smell of new-cut grass, oh I could go on. But the fact that we can get outside and BREATHE. Oh Yea! My son has all sorts of allergies so I do feel for him and anyone dealing with pollen etc., but I am so happy to be outside now and hope you will be able to get out and about too. I went out to a lodge meeting and we had a wonderful time. Now we are talking about being outside for meetings and programs. I hope you are all able to get your covid shots as things are starting to open up and get back to normal. As the temperatures warm and you spend more time outdoors in your yard or walking the neighborhood, you may be more acutely aware of the birdsongs in the air as spring gets into full swing. As you take your walks use this opportunity to add to your sports medal. The Sons of Norway Sports Medal Program is a fun and engaging way to stay active while enjoying the Norwegian tradition of friluftsliv (outdoor life and recreation)! It's uniquely designed to reward healthy habits at every age, activity level, and exercise preference. Talk to your lodge Sports Director for information on different awards. Have a great summer and we'll connect in September. Ha en fin sommer, nyt naturen vi kobler till I september.
Fraternally, Kathy