Nansen Lodge 3-410
Nansen hosted the 17 of May Parade Committee picnic.  We had a great celebration for 17 mai on May 16th.  It was held outside on our property.  It was finally OK from the city because of the pandemic.
We could have 200 people and they came from Long Island, Brooklyn, Manhattan and New Jersey.  We celebrated  with music by, Jeannie Widman from Long Island, who played her accordion with her son and another man.  They had games, played for dancing and we marched around on the property to music and waving our Norwegian and American flags.
Our first official meeting was May 21st, Salmon and Meatball dinner.   A social meeting celebrating Ruth Kornbrekke and Harry Kuell's birthdays and welcomed Ellen Lindstrom on the accordion for a night of dancing and games played to music.  Fun was had by all.  Our next business meeting was June 4th and June 18th our Scholarship meeting, we gave out four awards.  We didn't meet during the summer.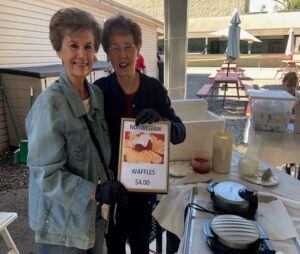 September 11th, Nansen Fair, the chair lady Ruth Kornbrekke did a great job.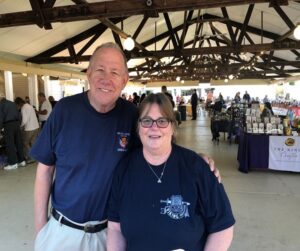 It was a beautiful day it was held outside under the pavilion and very successful. 
Ruth Korbrekke observed, "The stores couldn't survive just on Christmas and 'Seventeenth May' sales." That latter date refers to Constitution Day in Norway, when a yen for the eats of the Old Country are at their peak. Hence, there is the importance of this particular fair — where cheeses, fish balls and canned seafood sell out within a matter of hours each year.
 We donated $500 to Tunnel to Towers.  The income went to the Property Treasury to help pay for property taxes. We also had a social meeting, September 17th,  members made  open faced sandwiches, so pretty, delicious and Scandinavian.  We also met October 1st, business meeting.
On Sunday October 3rd was it a Memorial Service at Holy Trinity Lutheran Church, near Nor-Bu Lodge in Rockaway, New Jersey.   The lodges that participated was Bernt Balchen, Fredheim, Nansen, Nor-Bu, Noreg and Pleasant Point.  It was in memory of 44 loved and lost members who had died during the last two years.  We usually have a service once a year, this has now been two years because of the COVID-19 virus.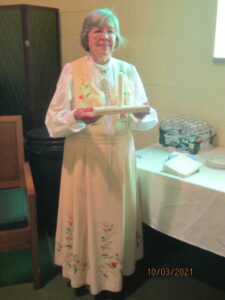 Fraternally
Lillian Fosse Kuell
President
Blå Fjell Lodge 3-646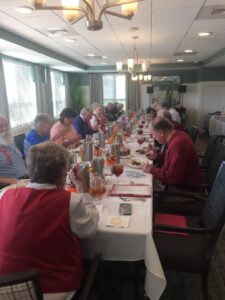 Blå Fjell celebrated its 25th Anniversary, October 23, 2021. 
The lodge was chartered in October 1996.  Nine charter members are still available to receive their 25-yr membership pin:  Jan Helge Bohn, Kathy H. Clark, John Eide, Lars Hagen, Joe Lindsoe, Arvid Myklebust, Ellen Nygaard, Thomas Nybaard and Arnie Olsen.  In addition:  three members will receive a 14-yr pin, and one a 5-yr pin. This was intentionally planned as a low-key celebration in case any pandemic restrictions appear again.  Held at Richfield Living Center in Salem, VA.  Two choices will be available for each of salad, entrée and dessert.  Attendees will pay for their own meals. 
September Nordic Auction/Bake Sale/Yard Sale meeting was very successful. 
We made $383.00 , well surpassing our goal.  This event is not open to the public because of space limitations, so we (and anyone we invite) bid against each other.  Donations of Nordic artifacts are available for a silent-by-paper auction.  Baked goods and small yard sale items are available at a set price.  This year we were especially blessed by antique Nordic artifacts donated by members who are downsizing or have moved.
Suncoast Lodge 3-562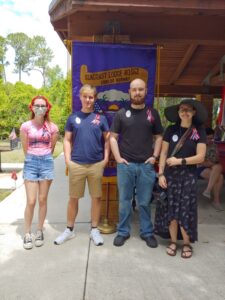 I hope you are well.  I have submitted two photos from Suncoast Lodge's Syttende Mai picnic.  Hopefully one of them will get in the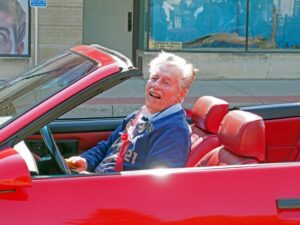 Viking magazine, if not, then they can be posted on the 3D photo page.  Also of note are the photos of Joe Skodje, a remarkable man and a member of Suncoast Lodge. 
Joseph (Joe) Skodje was the 2nd president of Suncoast Lodge and he turned 100 years young on March 30th this year. This year he was the Grand Marshall of the Memorial Day Parade in Faribault, MN.   
Like everyone else, we are trying to find ways to keep the lodge active and encourage participation.  Zoom has been of tremendous help since getting together is still problematic. 
We are taking baby-steps with our in-person meetings and I hope this will improve during the next few months.
Take care,
Chris Taylor
Hampton Roads Lodge 3-552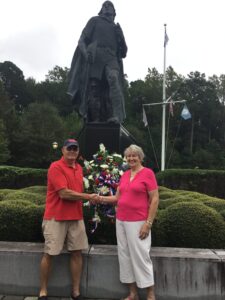 "Sons of Norway Hampton Roads President Lenny Zingarelli and the Honorary Consulate of Iceland Sesselja Seifert join forces underneath the statue of Leif Erickson in celebrating Leif Erickson Day In Newport News, Virginia. This statue of "Leif the Lucky" is an exact replica of the statue of Leif Erickson found at the front of the Hallgrimskirkja church in Reykjavik, Iceland."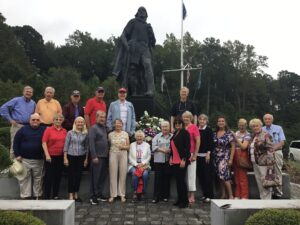 "Two groups from Hampton Roads Virginia meet and celebrate annually Leif Erickson Day on 9 October.  The Sons of Norway and the Icelandic group lay flowers at Leif's statue and commemorate the real discovery of America by the first European Leif Erickson. This celebration included both the Honorary Consulate to Norway Rolf Williams and the Honorary Consulate to Iceland Sesselja Seifert of Norfolk, VA.  Both groups joined forces underneath the statue of Leif Erickson in celebrating Leif Erickson Day In front of the Mariner's Museum in Newport News, Virginia. This statue of "Leif the Lucky" is an exact replica of the statue of Leif Erickson found at the front of the Hallgrimskirkja church in Reykjavik, Iceland."
Troll Lodge 3-476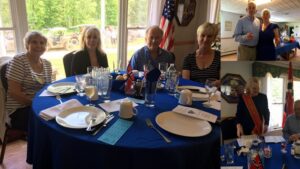 Troll lodge members and Hudson Valley attended zone 4 Scholarship Luncheon at Big Mountain Lodge (formerly LOV) in June. Zoned Director Kaare Hansen and his wife Pat Hansen, Zone 4 Treasurer attended as well as did Kathy Dollymore, District 3 President.
Kari Williams, Troll Lodge President
Gulfstream Lodge 3-514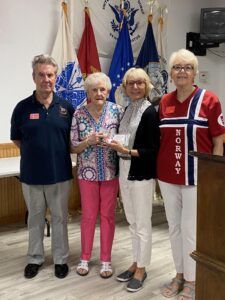 Gulfstream Lodge will be celebrating its 50th anniversary at our annual Pauline Hoiseth Christmas Party on December 10, 2021.  It will be at Pietro's on the River on Hutchinson Island near Fairways Golf course.  Members' dinners are free.  Guests are invited to come and celebrate with us, but they will have to pay for their drinks and meal.  After dinner there will be a Viking Auction and a 50/50 raffle.  If anyone is interested in coming to our dinner, please call Ingrid Hammen at (772) 233-2133.  Tusen takk.
Rich Deininger, Sports Director hands out medals to Olga Olsen for outstanding achievement for completing the complete course in more than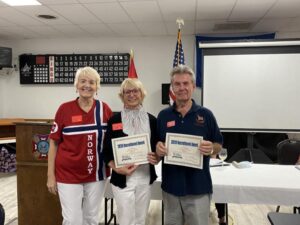 one sport, and Amy Amundsen received a bronze/silver medal in swimming.  Not shown is Ingeborg Amundsen, Amy's 92 year old mother who completed her bronze medal in walking.  Ingeborg and Amy are involved in two walks coming up. 
Rich Deininger, Amy Amundsen and Ingrid Hammen received recruitment awards at our September 12th meeting.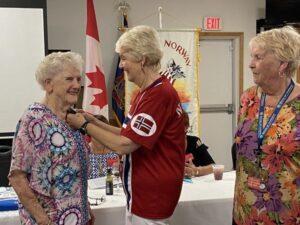 Oddbjorg (Olga) Olsen receiving her 70 year Sons of Norway membership pin. She is a member of Brooklyn Lodge and Gulfstream Lodge. She is one of the nicest and most caring people I know. She drives around helping everyone she can! She is 91 years old and still going!!  Congratulations to you Olga!
Noreg Lodge 3-466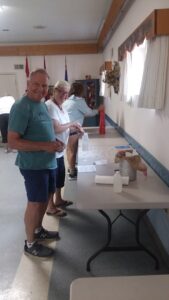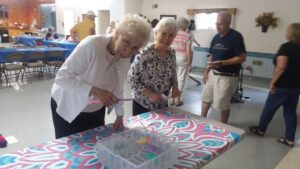 We held a picnic carnival on July 10th at Solbakken.  We enjoyed lots of good food and company and played some carnival games.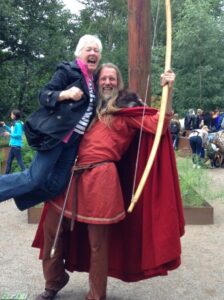 Want to have fun?  Visit Norumbega Lodge 3-506
Bernt Balchen 3-566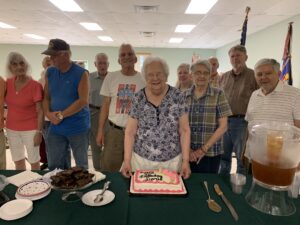 Doris M. Bright, one of the original members of Bernt Balchen Lodge, Sons of Norway, recently celebrated her 90th birthday.  A surprise party was held for her at the July 18th meeting of the lodge.  A good time was had by all.
Doris was born Aug. 21, 1931 at Israel Zion Hospital, Brooklyn, NY, to Arthur and Borghild Matthews.  Her grandparents, Carl and Josephine Magnussen, lived in Rowland, PA, a Norwegian settlement, since the early 1900s.
          Feeling like she's spent her whole life in Rowland, Doris was two weeks old when she made her first trip there to see her grandparents.  Summers, school vacations, holidays and numerous other days were spent in this beloved community.  Starting as a vacation site, Roland eventually became her permanent residence.
          Shopping and entertainment were very different at that time.  Vegetables and meat were purchased from local traveling salesmen who came to the house during the week.   She remembers walking to the Rowland Store for the mail which is where the post office.  The towpath to the Lackawaxan River was a dirt road at that time.  Tubing down the river was a favorite past time for the young people.  (Some of those "young people" are still tubing.)
          In the early 1970s, Doris and husband, Charlie, purchased the Rowland General Store, which they ran for several years.  They also purchased the toll house by the bridge where Charlie sold fishing supplies for many years.
Washington Lodge 3-428
Washington Lodge Activities July – Sept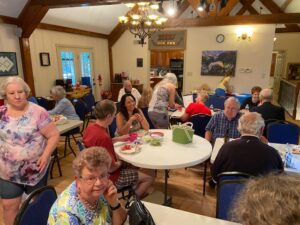 In July we held our first in-person event since February, 2020 —  a picnic at our lodge. But the weather was abysmal so most members ate inside. A great time was had by all! However as covid cases started ticking up again, we've returned to Zoom meetings. Our Zoom meetings attract 30 to 40 members on average, although some have reached 60. Our smaller groups also continue to meet by Zoom (Reading Circle, Genealogy Interest Group, and History Roundtable). We're planning our 51st Christmas Festival & Bazaar which, like last year, will require timed-entry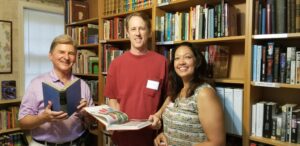 reservations so that the lodge doesn't get crowded. If you'd like to attend, please make a reservation here:  https://www.norwaydc.org/upcoming-events/norwegian-festival-2021
John Schalow, Lance Wright, and Giadira Leon peruse the library collection at Washington Lodge's Norway House on July 17, 2021, when the lodge held its first in-person gathering since February 2020.
Færder Lodge 3-109
A Special Invitation.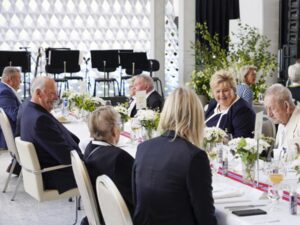 Aksel Andresen and Sylvia Kristiansen received an invitation from Prime Minister Solberg to attend the August 19th Liberation Day Ceremony and Luncheon at the Oslo Opera House.  So off they went to Norway.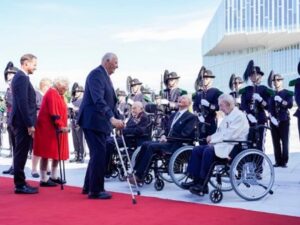 The ceremony was originally scheduled to take place last year on the 75th anniversary of Norway's liberation.  However, the event was canceled due to COVID-19.
King Harald, Crown Prince Haakon, Princess Astrid, and other dignitaries greeted and honored Aksel and other WWII Norwegian Krigsseilerne Veterans (Norwegian War Sailors).  Congratulations, Aksel, on this great honor.  We are so proud of you.
2021 Bazaar (1) loyal lodge

My thanks to all of the lodges who contributed articles and photos for this 4th quarter edition of The TDT.  For next month I am thinking about adding a Home and Garden section to feature some of our members efforts to display their Norwegian heritage through home design and decoration both interior and exterior.  I would be particularly interested in stacked firewood and scrap lumber piles which are so Norwegian!
Contact me: hansenoaks@lowcountry.com