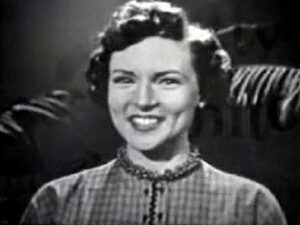 Betty Marion White Ludden (born January 17, 1922), known professionally as Betty White,
is an American actress, comedian, author, and advocate for the welfare and health of animals.  White's television career began over 80 years ago in 1939, shortly after her graduation from high school. Years earlier she found work as a radio personality in Los Angeles before transitioning to television under the guidance of disk jockey Al Jarvis.
Regarded as a pioneer of television, she was one of the first women to exert control in front of and behind the camera and is recognized as the first woman to produce a sitcom (Life with Elizabeth), which contributed to her receiving the honorary title Mayor of Hollywood in 1955.
White is known for her roles as Sue Ann Nivens on the CBS sitcom The Mary Tyler Moore Show (1973–1977), Rose Nylund on the NBC sitcom The Golden Girls (1985–1992), and Elka Ostrovsky on the TVLand sitcom Hot in Cleveland (2010–2015).
With a television career spanning over 80 years, White has worked longer in that medium than anyone else in the television industry.  White has received eight Emmy Awards in various categories, three American Comedy Awards, three Screen Actors Guild Awards, and a Grammy Award. She has a star on the Hollywood Walk of Fame, and is a 1985 Television Hall of Fame inductee.
Betty Marion White was born in Oak Park, Illinois, on January 17, 1922.  She has stated that Betty is her legal name and not a shortened version of Elizabeth.  She is the only child of Christine Tess (née Cachikis; 1899–1985), a homemaker, and Horace Logan White (1899–1963), a lighting company executive.  Her paternal grandfather was Danish and her maternal grandfather was Greek, with her other roots being English and Welsh (both of her grandmothers were Canadians).
White's family moved to Alhambra, California, in 1923 when she was a little over a year old, and later to Los Angeles during the Great Depression.  To make extra money, her father would build radios (crystal radio) and sell them wherever he could. Since it was the height of the Depression, and hardly anyone had a sizable income, he would trade the radios in exchange for other goods, including dogs on some occasions.
White attended the Beverly Hills Unified School District in Beverly Hills, and Beverly Hills High School, graduating in 1939. Her interest in wildlife was sparked by family vacations to the Sierra Nevada. She initially aspired to a career as a forest ranger, but was unable to accomplish this because women were not allowed to serve as rangers at that time.  Instead, White pursued an interest in writing. She wrote and played the lead in a graduation play at Horace Mann School, and discovered her interest in performing.  Inspired by her idols Jeanette MacDonald and Nelson Eddy, she decided to pursue a career as an actress.
White began her television career in 1939, three months after her high school graduation, when she and a classmate sang songs from The Merry Widow on an experimental television show.  White found work modeling, and her first professional acting job was at the Bliss Hayden Little Theatre. When World War II broke out, she put her career on hold and volunteered for the American Women's Voluntary Services. Her assignment included the transportation of military supplies through California. She also participated in events for troops before they were deployed overseas.
By the 60's, White was a staple of network game shows and talk shows: including both Jack Paar and later Johnny Carson's era of The Tonight Show. She made many appearances on the hit Password show as a celebrity guest from 1961 through 1975. She married the show's host, Allen Ludden, in 1963
In 1973, White made several appearances in the fourth season of The Mary Tyler Moore Show, as the "man-hungry" Sue Ann Nivens.  The role garnered White her second and third Emmy Awards. Although considering the role a highlight of her career, she has described the character's image as "icky sweet", feeling she was the very definition of feminine passivity, owing to the fact she always satirized her own persona onscreen in just such a way.
While volunteering with the American Women's Voluntary Services, White met her first husband Dick Barker, a United States Army Air Forces aircraft pilot..
In 1947, she married Lane Allen, a Hollywood talent agent.  This marriage ended in divorce in 1949 after Allen pressured White to give up her career to become a homemaker.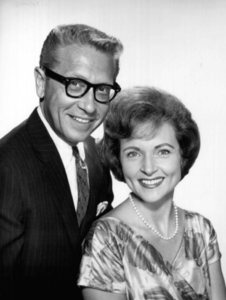 On June 14, 1963, White married television host and personality Allen Ludden, whom she had met on his game show Password as a celebrity guest in 1961, and her legal name was changed to Betty White Ludden.  He proposed to White at least twice before she accepted. The couple appeared together in an episode of The Odd Couple featuring Felix's and Oscar's appearance on Password. Ludden appeared as a guest panelist on Match Game, with White sitting in the audience. (She was prompted to criticize one of Ludden's wrong answers on camera during an episode of Match Game '74.) The two appeared together on the Match Game panel in 1974, 1975 and 1980.
Allen Ludden died from stomach cancer on June 9, 1981, in Los Angeles.  While they had no children together, she is stepmother to his three children from his first marriage to Margaret McGloin Ludden, who died of cancer in 1961. White has not remarried since Ludden's death. In an interview with Larry King, when asked whether she would remarry, she replied by saying "Once you've had the best, who needs the rest?"
White is a pet enthusiast and an animal health advocate who works with animal organizations, including the Los Angeles Zoo Commission, The Morris Animal Foundation, African Wildlife Foundation, and Actors & Others for Animals. Her interest in animal rights and welfare began in the early 1970s while she was both producing and hosting the syndicated series, The Pet Set, which spotlighted celebrities and their pets.
As of 2009, White is the president emeritus of the Morris Animal Foundation, where she has served as a trustee of the organization since 1971.  She has been a member of the board of directors of the Greater Los Angeles Zoo Association since 1974.  Additionally, White served the association as a Zoo Commissioner for eight years.
According to the Los Angeles Zoo & Botanical Garden's ZooScape Member Newsletter, White hosted "History on Film" from 2000 to 2002. White donated nearly $100,000 to the zoo in the month of April 2008 alone.
Betty White served as a presenter at the 2011 American Humane Hero Dog Awards ceremony at The Beverly Hilton Hotel on October 1, 2011, in Los Angeles.
White served as a judge alongside Whoopi Goldberg and Wendy Diamond for the American Humane's Hero Dog Awards airing on The Hallmark Channel on November 8, 2011.
White has won five Primetime Emmy Award, two Daytime Emmy Awards (including the 2015 Daytime Emmy for Lifetime Achievement), and received a Los Angeles Emmy Award in 1952.  White is the only woman to have received an Emmy in all performing comedic categories, and also holds the record for longest span between Emmy nominations for performances—her first was in 1951 and her most recent was in 2011, a span of 60 years. She has also won three American Comedy Awards (including a Lifetime Achievement Award in 1990), and two Viewers for Quality Television Awards. She was inducted into the Television Hall of Fame in 1995 and has a star on the Hollywood Walk of Fame at Hollywood Boulevard alongside the star of her late husband Allen Ludden.
White was the recipient of The Pacific Pioneer Broadcasters Golden Ike Award and the Genii Award from the Alliance for Women in Media in 1976.  The American Comedy Awards awarded her the award for Funniest Female in 1987 as well as the list of lifetime achievement awards in 1990.
The American Veterinary Medical Association awarded White with its Humane Award in 1987 for her charitable work with animals.  The City of Los Angeles further honored her for her philanthropic work with animals in 2006 with a bronze commemorative plaque near the Gorilla Exhibit at the Los Angeles Zoo.  The City of Los Angeles named her "Ambassador to the Animals" at the dedication ceremony.
She was formally inducted into the Academy of Television Arts & Sciences list of halls and walks of fame in 1995. In 2009, White received the TCA Career Achievement Award from the Television Critics Association.
In September 2009, the Screen Actors Guild (SAG) announced plans to honor White with the Screen Actors Guild Life Achievement Award at the 16th Screen Actors Guild Awards. Actress Sandra Bullock presented White with the award on January 23, 2010, at the ceremony, which took place at the Shrine Auditorium in Los Angeles. She is a Kentucky Colonel.  In 2009, White and her now-deceased The Golden Girls cast mates Bea Arthur, Rue McClanahan, and Estelle Getty were awarded Disney Legends awards. Betty was inducted into the California Hall of Fame in December 2010. In 2010, she was chosen as the Associated Press's Entertainer of the Year.  On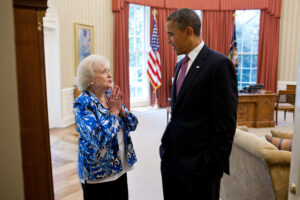 November 9, 2010, the USDA Forest Service, along with Smokey Bear, made Betty White an honorary forest ranger, fulfilling her lifelong dream.  White said in previous interviews that she wanted to be a forest ranger as a little girl but that women were not allowed to do that then. When White received the honor, more than one-third of Forest Service employees were women.
In January 2011, White received a SAG Award for Outstanding Performance by a Female Actor in a Comedy Series for her role as Elka Ostrovsky in Hot in Cleveland. The show itself was also nominated for an award as Outstanding Performance by an Ensemble in a Comedy Series, but lost to the cast of Modern Family.  She won the same award again in 2012, and has received a third nomination.
In October 2011, White was awarded an honorary degree and white doctors coat by Washington State University at the Washington State Veterinary Medical Association's centennial gala in Yakima, Washington.
A 2011 poll conducted by Reuters and Ipsos revealed that White was considered the most popular and most trusted celebrity among Americans, beating the likes of Denzel Washington, Sandra Bullock, and Tom Hanks.
Wikipedia Creative Commons' CC BY-SA