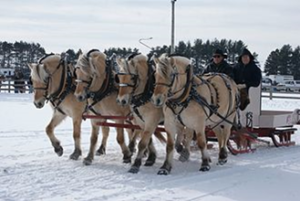 The Fjord horse or Norwegian Fjord Horse (Norwegian: fjordhest) is a relatively small but very strong horse breed from the mountainous regions of western Norway. It is an agile breed of light draught horse build. All Fjord horses are "dun" in color (see the definition of "dun gene"), with five variations in shade recognized in the breed standard. One of the world's oldest breeds, it has been used for hundreds of years as a farm horse in Norway, and in modern times is popular for its generally good temperament. It is used both as a harness horse and under saddle.
The Fjord horse is one of the world's oldest and purest breeds, believed to be related to the Przewalski, a primitive wild horse of Asia. Horses were known to exist in Norway at the end of the last ice age. It is believed that the ancestors of the modern Fjord horse migrated to Norway and were domesticated over 4,000 years ago. Archaeological excavations at Viking burial sites indicate that the Fjord horse type has been selectively bred for at least 2,000 years.  The Fjord horse was used by the Vikings as a war mount. The Fjord horse and its ancestors have been used for hundreds of years as farm animals in western Norway. Even as late as World War II, they were useful for work in mountainous terrain. Its strength, durability, and thick coat fare well in the rough winters of Norway.  The Fjord horse also has a long recorded history of pure breeding without crossbreeding from other sources.  The Fjord horse is featured as a charge on the coat of arms of the municipalities of Gloppen and Eid, both in Nordfjord.
The Fjord horse is strong enough for heavy work, such as plowing fields or pulling timber, yet light and agile enough to be a good riding and driving horse. They are also sure-footed in the mountains. Today, the Fjord horse is a favorite at Norwegian riding and therapeutic schools, as its generally mild temperament and small size make it suitable for children and disabled individuals. They are considered very good driving horses and are commonly used in everything from competitions to tourist transport in Norway. They are also used as a sport horse, particularly in combined driving.