March 2018
Fra Presidenten
"….all you red headed Irish can thank the Vikings!"  by Nalda Olson, former Bondelandet charter member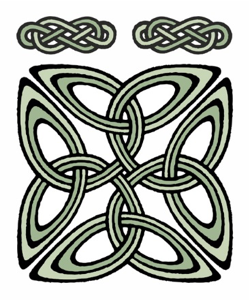 Did you ever notice the similarity between Celtic and Viking art?  This is a photo I purchased from Shutterstock and it is labeled as medieval Celtic Viking symbol! I am partial to both; could be because my mother was an Irish red head and my father was Norwegian.  I have discovered that was not an uncommon combination, especially in Brooklyn! Think about it, two sets of immigrants coming to a new land; it is only logical that they would connect as they strived to survive away from the familiar.
Connect, that is what we do.  We are connected by our lodge, by our Zone, by our District, by the entire Sons of Norway organization. Did you notice that there are no breaks in the artwork?
One of the things I am so proud of when I read your newsletters and visit your lodges is that you all focus on what binds us together.  Our love of culture and history and our Norwegian roots.  It's not easy being part of a volunteer organization where people have different views yet we all work together toward a common goal.  It is a wonderful feeling.  How do we share that "feeling"?  You do it in your newsletters; the community events you support; the way we treat each other as a very large extended family. You all "pull it off" with the ease and grace of an Olympic ice dancer.
Like the medieval Celtic Viking symbol, we are all connected an I am proud to be connected with you!!!  Keep up the great work!
Happy St. Patrick's Day to all!
Sláinte
All the best,
Mary