Mandal 
Amazingly, this scenic town in Southern Norway , with only a population totaling around 11,000 has produced some of the greatest artists of its nation.  I think you will recognize some of these names and if not, at least their work.
A composite from Wikipedia Creative Commons' CC BY-SA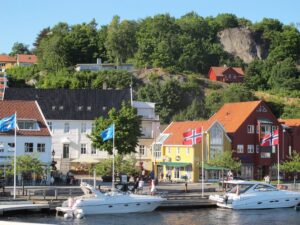 Mandal is the administrative centre of Lindesnes municipality in Agder county, Norway. It is the fourth largest town in Agder. The town is located at the mouth of the river Mandalselva at the southern end of the Mandalen valley. The 6.32-square-kilometre (1,560-acre) town has a population (2015) of 10,725 which gives the town a population density of 1,697 inhabitants per square kilometre (4,400/sq mi).
The area around what is today Mandal was not developed during the Middle Ages. During the 1300s, a trading post called Vester-Risør grew up along the Skogsfjorden, just west of the present-day town. The town began when King Eric of Pomerania gave the town the right to trade salmon. By the 1500s, Vesterrisør was a bustling kjøpstad, making it the oldest market town in Vest-Agder. During the 1600s, the name of the town was changed to Mandal. Salmon fishing and the timber industry pushed the town's growth even more during the 1700s. Mandal Church was completed in 1821 after the old church burned down in the town's fire of 1810.
On 1 January 1838, the kjøpstad was granted self-governing rights as a ladested under the new formannskapsdistrikt law. In 1921, Mandal received full town status under the law. During the 1960s, there were many municipal mergers across Norway due to the work of the Schei Committee. On 1 January 1964, the town of Mandal (population: 5,446) was merged with the neighboring municipality of Halse og Harkmark (population: 3,676) and most of the municipality of Holum (population: 1,127) to form a new, larger municipality of Mandal. Today, the town is also a tourist destination, especially due to its Sjøsanden beach.
The town is named after the valley (and river) in which it is located: Mandalen. The name Mandal which comes from the Old Norse name Marnardalr. The first element is the genitive case of the river name Mǫrn (now Mandalselva) and the last element is dalr which means "valley" or "dale".
Prior to 1653, the town was named Vesterrisør (meaning "western Risør"). The name was originally referring to the island Risøya outside the town, and the first element was added in the 16th century to distinguish it from the town of Østerrisør (meaning "eastern Risør"), which is now simply called Risør.
Gustav Vigeland
 (11 April 1869 – 12 March 1943), born as Adolf Gustav Thorsen, was a Norwegian sculptor. Gustav Vigeland occupies a special position among Norwegian sculptors, both in the power of his creative imagination and in his productivity. He is most associated with the Vigeland installation (Vigelandsanlegget) in Frogner Park, Oslo.  He was also the designer of the Nobel Peace Prize medal.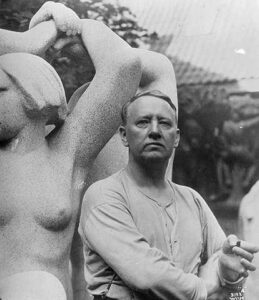 Adolf Gustav Thorsen was born to a family of craftsmen, just outside Halse og Harkmark, a former municipality in Mandal. His parents were Elesæus Thorsen (1835–1886), a cabinetmaker and Anne Aanensdatter (1835–1907). He had three brothers, of whom Emanuel Vigeland (originally Thorsen) became a noted artist. As a youth, he was sent to Oslo where he learned wood carving at a local school. However, the sudden death of his father compelled him to move back to Mandal to help his family. Gustav lived for a time with his grandparents on a farm called Mjunebrokka in Vigeland, an old farm in Valle parish, Lindesnes municipality in Vest-Agder county.
He returned to Oslo in 1888, this time determined to become a professional sculptor. He came to the attention of sculptor Brynjulf Bergslien, who supported him and gave him practical training. The following year he exhibited his first work, Hagar and Ishmael. In his 20s, he adopted the new family name Vigeland, from the area he had briefly lived.
Vigeland spent the years 1891 to 1896 in several voyages abroad, including Copenhagen, Paris, Berlin and Florence. In the French capital he frequented Auguste Rodin's workshop, while in Italy he experimented with ancient and Renaissance artworks. In these years the themes that would later dominate his inspiration – death and the relationship between man and woman – first appeared. He held his first personal exhibitions in Norway in 1894 and 1896, which received notable critical praise.
Until 1902 Vigeland was engaged in the restoration of the Nidaros Cathedral in Trondheim. The contact with Medieval art contributed to another frequent theme in Vigeland's art, the dragon as symbol of sin but also as a nature force, fighting against man.
Back in Oslo, he obtained from the town an abandoned studio in which to work. In 1905 Norway became independent from Sweden. Vigeland, considered the most talented Norwegian sculptor, received numerous commissions for statues and busts celebrating renowned compatriots like Henrik Ibsen and Niels Henrik Abel.
In 1906 Vigeland proposed a chalk model for a monumental fountain. Initially, the idea of the Oslo municipality was to put the fountain in Eidsvolls plass, the square in front of the Parliament of Norway. His work was generally welcomed, but the location created a dispute: completion of the work was postponed by the dispute. In the meantime Vigeland enlarged the original project, adding several sculpture groups. The high granite column was added to the design in 1919.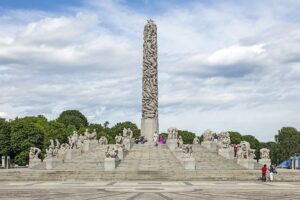 Gustav Vigeland is most widely known for the Vigeland installation, a permanent sculpture installation in Frogner Park in Oslo.
In 1921 the City of Oslo decided to demolish the house where Vigeland lived and build a library. After a long dispute, Vigeland was granted a new building from the city where he could work and live; in exchange, he promised to donate to the city all his subsequent works, including sculptures, drawings, engravings and models.
Vigeland moved to his new studio on Nobels gate in the borough of Frogner during 1924. His studio was located in the vicinity of Frogner Park, which he had chosen as the definitive location for his fountain. Over the following twenty years, Vigeland was devoted to the project of an open exhibition of his works, which later turned into what is known as Vigeland Sculpture Arrangement (Vigelandsanlegget) in Frogner Park. The Vigeland installation features 212 bronze and granite sculptures all designed by Gustav Vigeland. The sculptures culminate in the famous Monolith (Monolitten), with its 121 figures struggling to reach the top of the sculpture.
Adolph Tidemand
 (14 August 1814 – 8 August 1876) was a noted Norwegian romantic nationalism painter. Among his best known paintings are Haugianerne (The Haugeans; 1852) and Brudeferd i Hardanger (The Bridal Procession in Hardanger; 1848), painted in collaboration with Hans Gude.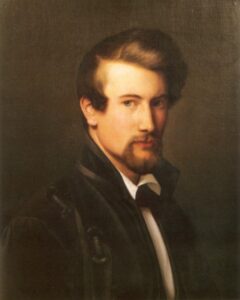 Adolph Tidemand was born in Mandal, Norway as the son of customs inspector and Storting representative Christen Tidemand (1779–1838) and Johanne Henriette Henrikke Haste (1779–1859). He received private art lessons in his home town and his talent was soon recognized. He then was enrolled in an art school in Christiania, moving on to Copenhagen in the period 1832–1837. Upon arrival in Copenhagen, he was rejected by the Royal Danish Academy of Fine Arts and studied at a private school of art, but by 1833 he was a pupil at the Academy, earning Academy exhibitions in 1835 and 1836. He studied there for five years and then began a journey to Italy to study further. But when Tidemand came to Düsseldorf, Germany, he liked it so much that he settled down there.
From 1837 until 1841 he continued his studies at the art academy in Düsseldorf, which at the time enjoyed widespread international recognition. He studied with and was influenced by his teacher, Theodor Hildebrandt. Here he prepared the well known Hjemvendte fiskere ved den sjællandske kyst (1838). The painting Gustav Vasa taler til dalalmuen i Mora kirke (1841) was sold to a German museum, but was later returned to Christiania. He is associated with the Düsseldorf school of painting.
In the autumn of 1841 he studied in Italy along with his brother Emil. Few of his works from this period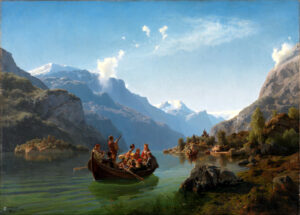 remain, except for the picture Napolitansk fisker (1842). Tidemand was preoccupied by Norwegian history, particularly after returning on a journey to Norway. During a journey to 1843 in Hardanger, he met the 18-year-old Hans Gude. This resulted in a close friendship, and eventually they collaborated on several landscape paintings in which Tidemand painted the figures.
During 1842–1845 he traveled extensively in Norway (to Østerdalen, Gudbrandsdalen, Sogn, Hardanger and Telemark). More of his works survive from this period, including Eventyrfortellersken (1844), Søndagskveld i en hardangersk røkstue (1843) and Gudstjeneste i en norsk landsens kirke (1845). In his later travels in southern Norway, the last in 1875, Tidemand studied folk costumes, domestic utensils and building and made himself familiar with oral traditions, folk tales and legends. His version of rusticity proved highly popular and in 1848 he was commissioned by Oscar I, King of Sweden and Norway, to paint a series of Norwegian peasant life for the royal palace of Oscarshall, near Christiania.
Today Adolph Tidemand is best known for this depiction of Norwegian farm and culture and is counted among the first Norwegian historic painters. In Tidemand's paintings of the old Norwegian farm culture, he portrayed the peasant with a new dignity, humane and culturally. The National Museum of Art, Architecture and Design (Nasjonalgalleriet) in Oslo alone owns more than 100 of his works.
Amaldus Clarin Nielsen
 (23 May 1838 – 10 December 1932) was a Norwegian painter.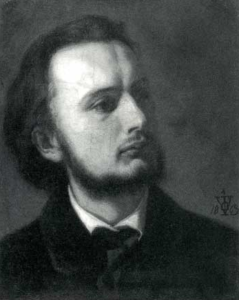 He was born in Halse as a son of shipmaster and merchant Niels Clemetsen Nielsen (1795–1845) and his wife Andrea Marie Møller (1802–1866). He grew up in Mandal in Vest-Agder county, Norway. He lived most of his childhood and adolescence without a father. He received some tuition from a traveling drawing teacher and traveled to Copenhagen to study in 1854.
After one year of painting studies in Copenhagen, he enrolled at the Academy of Art in 1855. He failed to progress in the academy's system, but with financial support from his brother and business owner Diderik Cappelen (1856–1935), he studied under Hans Gude at the Düsseldorf Academy  from 1857 to 1859.  He spent the years 1859 to 1863 travelling over Western and Southern Norway, and spent 1863 to 1864 in Düsseldorf again. He is associated with the Düsseldorf school of painting. He then travelled home due to illness, moved to Christiania where he sealed a deal to make paintings that the Christiania Kunstforening would sell at auctions, securing a steady income. He spent the years 1867 to 1868 in Karlsruhe before finally settling at Majorstuen in 1869.
He painted in the naturalist style, and has been called "Norway's first naturalist painter".  Important paintings include Hvalørhei (1874), Skovbillede (1896), Morgen ved Ny-Hellesund (1885, one of several from Ny-Hellesund), Ensomt sted (1901), Fra Bankefjorden (1910) and Kveld på Jæren (1925).   Most of his paintings portrayed Western and Southern Norway, but also Østfold.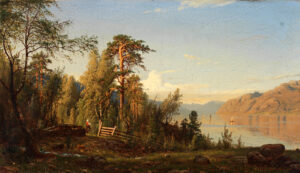 He participated almost annually in the Autumn Exhibit between 1883 and 1911, and held notable exhibitions in Christiania Kunstforening (1895, 1906, 1924, 1931), at the 1862 International Exhibition, the Exposition Universelle of 1889 and in Munich in 1913.  Eleven of his works are owned by the National Museum of Art, Architecture and Design.  He is also represented in Mandal Kunstforening and Mandal Bymuseum, but is perhaps best known for the collection of about 300 works which was donated to Oslo municipality by Nielsen's heirs in 1933. Since 1994 this collection is on permanent exhibit in the Stenersen Museum.  Nielsen was also decorated as a Knight, First Class of the Royal Norwegian Order of St. Olav in 1890.  The square Amaldus Nielsens plass, which includes a bust of Nielsen, was named after him.
In October 1868 in Christiania he married Johanne Nicoline Augusta Vangensteen, born 1845 as a daughter of district stipendiary magistrate Ove Bodvar Hussein Vangensteen (1806–1859). The couple had eleven children. Both his wife and three children died in March 1886 from a diphtheria epidemic. After a period of grief, he married Laura Tandberg (1857–1928) in February 1888 in Risør. Nielsen died in December 1932, aged 94, from pneumonia.
Olaf Wilhelm Isaachsen
 (May 16, 1835 – September 22, 1893) was a Norwegian landscape and genre painter.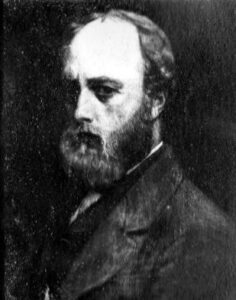 He was born in Mandal in Vest-Agder county Norway. Isaachsen belonged to a branch of an affluent and educated merchant family from Kjos in Kristiansand. He was the son of jurist Daniel Peter Christian Isaachsen, grandson of politician Isaach Isaachsen and great-grandson of Daniel Isaachsen (1744-1813), a Norwegian shipbuilder . He was the uncle of physicist Daniel Isaachsen, scientist Haakon Isaachsen (1867–1936), painter Herman Willoch and naval officer Odd Isaachsen Willoch.
He attended Nissens Latin School in Christiania (now Oslo). He later studied under Joachim Frich and Johannes Flintoe at the Royal School of Drawing from 1850, in Düsseldorf from 1854 to 1859, and in Paris under Thomas Couture (1859-1860) and Gustave Courbet (1861-1862). After a visit to Italy he returned home in 1864 with a view to becoming an artist with a strong focus on archeology and history. He ultimately settled in Kristiansand, although with frequent periods spent abroad.
His artistic style reflected naturalism and in later years impressionism. Isaachsen was regarded as one of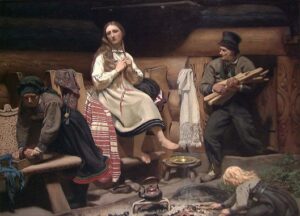 Norway's more prominent artists and great colorist with motives of the coast landscape of Southern Norway. He also painted a wide range of portraits. Moreover, he found a full valid artistic expression in Setesdalen. His art often reflected the valley's distinctive culture. He is represented with 24 works in the National Museum in Oslo (NM), former National Gallery of Norway.  The Regional Museum in Kristiansand, Sørlandets Kunstmuseum (SKMU) has 58 works.
Isaachsen was a knowledgeable and courteous man, a mixture of observation and locals, who spoke fluent German, Dutch, English, French and Italian. He was married in 1864 to Antonie (Toni) John Prehr (1838-1870). The couple had four children – William (1865-1942), Eivind (1866-1926); Johanna Marie (1867-1872) and Harald (1869-1942). His wife died of tuberculosis when only 32 years old. Two years later his four-year-old daughter Johanna Marie died of diphtheria, and he was left with three small boys. He was the paternal grandfather of Sigurd Daniel Isaachsen Willoch, an art historian and director of the National Gallery of Norway.
Emanuel Vigeland
 (2 December 1875 – 22 December 1948) was a multitalented Norwegian artist. He is known for a variety of decorations of Scandinavian churches and for Tomba Emmanuelle, his mausoleum at Slemdal in Oslo.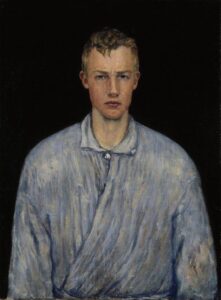 August Emanuel Vigeland was born in Halse og Harkmark in Mandal, Vest-Agder county. Vigeland was born to a family of craftsmen. His parents were Elesæus Thorsen (1835–1886), a cabinetmaker and Anne Aanensdatter (1835–1907). His elder brother was sculptor, Gustav Vigeland. In autumn 1894, he went to Oslo as a student at the Norwegian National Academy. In the spring of 1897 he debuted at the National art exhibition. Vigeland went to Copenhagen in the autumn of 1898 and was a student of Peder Severin Krøyer at Den Frie Studieskole. From October 1899 to February 1902, Vigeland stayed abroad, first as a student in Paris, then in Italy, Spain and the UK.
His first solo exhibition was held at the Dioramalokalet on Karl Johan Street in Oslo during February 1902. In 1905, Vigeland traveled to Italy under a scholarship to study frescoes, a journey that also took him to Egypt and Jerusalem. In 1909, Vigeland was commissioned to decorate frescoes, stained glass and lighting equipment for the first Norwegian Crematorium (Det gamle kapell). The same year he was invited to participate in the competition for the decoration of fresco paintings and stained glass in the new assembly hall at the University of Oslo.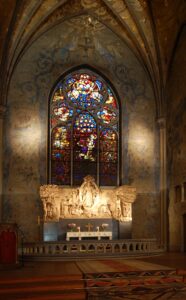 Mostly known for his paintings, Vigeland also produced frescos, stained glass and sculptures. Noteworthy sculptures include The Virgin and the Unicorn, installed in Nygårdsparken in Bergen. Many of his designs are inspired by Christianity, and he decorated the interior of a number of churches principally in Norway. Noteworthy were the design of the interiors, from the pulpit and altar to light fixtures and other decor, in Bryn Church in Bærum, (1911–14) and the mosaics and stained glass at Gjerpen Church at Skien (1919–21). Other notable example would include the chandeliers and wall lamps in the choir and the ship in the Stavanger Cathedral, the stained glass in the Århus Cathedral, the stained glass in Lund Cathedral and stained glass of Fredrikstad Cathedral in the Diocese of Borg.
From 1919-22, he ran a school for stained glass art at his studio at Slemdal. In the 1920s he was at the height of his fame, having conducted a series of successful missions abroad. Vigeland was acquainted with Swedish archbishop Nathan Söderblom and through this connection he was introduced to the  Swedish People's Church Movement .  Particularly extensive and prestigious was his work with glass paintings at Oscar's Church in Stockholm.
Vigeland made of his mausoleum (Tomba Emmanuelle) his magnum opus. His mausoleum, which doubles as a museum, is located in Oslo. It is shaped like a small windowless church, which has overwhelming acoustics that make speaking out loud almost impossible. The inside walls and roof are covered in a giant fresco, Vita, depicting human life, love and death. Several sculptures of women giving birth adorn the floor. The entry to the mausoleum is very low and the urn containing the ashes of the artist is in a niche above the entry, thus forcing all visitors to bow to him when exiting. It is rumoured that Emanuel was annoyed by always being in the shadow of his better known brother Gustav Vigeland and that this gesture of morbid humour was his posthumous revenge.  In 1958, the mausoleum was opened to the public. It is run by the private foundation Emanuel Vigeland Museum. The amazing acoustics of the mausoleum can be heard in recordings by various artists.
In 1902, Emanuel Vigeland married Valborg Kristine Madsen (1879–1951). Their children were Maria Vigeland (1903–1983), Per Vigeland (1904–1968), and Imm Vigeland (born 1917).  He was a grandfather of goldsmith Tone Vigeland.