MARCH PRESIDENT'S LETTER -Kathy Dollymore  
Be civil to all; serviceable to many; familiar with few; friend to one; enemy to none.  Benjamin Franklin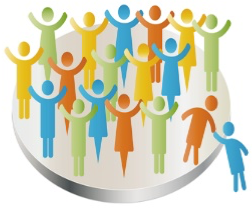 As I write this President's letter, the cold days of February are finally giving way to the warmer days of Spring. I may be rushing the season but I am more than ready after the "polar vortex". That was quite enough for me! And to be "scientifically specific" Pennsylvania's official weather prognosticator, groundhog Punxsutawney Phil, says we're in for an early Spring. GO PHIL!!
I am happy that many of the lodges' members have taken up on my offer to call me.  New officers are connecting and are looking forward to leadership training. The calls to me are showing what a fraternal group we are. I'm proud to be a member of such a fine group.
Now that being said, during these same calls, I have also heard about the struggles that the Lodges are having with membership and participation.
Our membership growth is a constant challenge.  The conundrum that we face is not unique to our lodges, other Districts or even other organizations.  For whatever reason, people today just aren't "joiners".  We must find a way to change this mindset if we are going to continue to be a strong and viable Sons of Norway Lodge in the future. This also means that we need to make a concerted effort to make sure that we are not only bringing new members in the lodges, but also make efforts to retain those members who we raise as officers within our Lodges. Membership retention is a major issue.  Maintaining the status quo is not an option.  We spend an inordinate amount of time and effort bringing good people into our lodges, only to lose them to either non-payment of dues or lack of participation.  Doing business, the way we have "always done things", is not the answer. Here is some information from International President Ron Stubbings:
"In 2013, 2,934 new members joined Sons of Norway, and in 2014, 2,834 joined. Sounds great doesn't it! But there is an issue! Of those who signed up in 2013, 557 (19%) did not renew for a second year, and 640 (22%) did not renew for a third year. That is 41%! Of those signing up in 2014, 563 (20%) did not renew after the first year, and 597 (21%) did not renew after the second year, again 41%."      
 Our Third District must continue to innovate to survive.  How we respond to membership decline in the next 10 years will determine what the future looks like for the Tremendous Third and for the Sons of Norway." Let's each sign up a new member this month! Your 3D Board is there to help.
The LLST (Local Lodge Support Team) is ready to jump in and assist in issues your local lodge may have. If your lodge would like to contact the LLST Chair Dirk Hansen, email hansenoaks@lowcountry.com .