Gateway to Florida Lodge member Kent Larson (and brother of International Secretary Marci Larson) shares his multi-organ transplant experience with his Sons of Norway family!
Read the Gateway to Florida Lodge Newsletter for June/July/August 2017
I wanted to share with you a medical experience that has forever changed my life. I had a double organ transplant at Mayo in Jacksonville April 23 which saved my life. I was very ill for many, many months and was not sure how it would all turn out, but to date I have responded well to the new liver and kidney.
From nowhere, I began exhibiting health issues in early 2016, but the doctors were not quite sure what was happening. They think I got an auto immune deficiency caused by hepatitis A&B. For several months my gastro doctor thought he could reverse the damage that was happening to my liver but by September my liver was completely gone and my gastro doctor told me to get into the transplant program at Mayo Clinic which I did.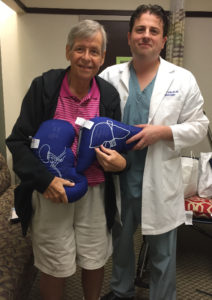 My family has a long history of health care with Mayo including me, so because of a cancellation I was able to schedule the evaluation quickly. When they concluded, they told me yes, I needed a new liver, but things had to get worse before I'd be considered a viable candidate. And worse it got. Because of the stress on my kidneys by December they were gone, so I started dialysis which amounted to 4 1⁄2 hours three times a week. While dialysis was saving my life, I grew to hate it because I always felt horrible for a day or two afterwards. I also accumulated excessive fluid, so I needed extraction twice weekly since there was no way to process it from my body. Because I also fought a low hemoglobin, I received two units of blood weekly. I lost 75 pounds, had no energy or stamina, minimal appetite and was forever cold. I was hospitalized several times – once my sister Marci had to call 911 because of an episode. Because of the side effects of a failed liver, I do not remember anything about it. I had three "false" starts with a liver replacement, but it took several months to get both a kidney and liver that had to come from the same donor. I received a call at 11 p.m. Saturday evening that organs were available that would work for me. Following a 61/2 hour surgery April 23, I was in ICU less than 24 hours and went home after six days.
I've had minor ups and downs, but have responded well to the organs and the anti-rejection meds are working well. I get tired and have to rest but my vitals are in great shape considering what I have been through.
Throughout this experience I tried to keep a positive attitude and rely on my Christian faith. I also understand the power of prayers which came from people around the world. I am so thankful to the donor and his family for giving me a second life, for my friends and ministers from church, Sons of Norway, neighbors and others who stood with me in many ways, to my sister Marci and to the Mayo Clinic and the incredible healing hands of so many doctors and marvelous staff.
Moving forward, I plan to devote time to the liver and kidney foundations and to encourage individuals to be organ donors. As Pastor Iverson has told me, I am now living a new normal.
If you have questions call.
Kent M. Larson