3D members interested in joining in the nautical fun of the Zone 5 Regatta should read and heed this article taken from Gateway's recent newsletter!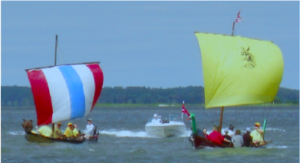 Zone 5 Regatta Weekend
April 20-21, 2018
Hosted by the Gateway to Florida Lodge, Jacksonville
Mark your calendar for a fun-filled weekend in Clay County, Florida, just a stone's throw from Jacksonville. Arrive Friday evening for a social to meet and greet new friends and re- connect with old ones.
Cheer on your favorite Viking replica boat in a highly- compe;;ve regaKa Saturday morning at Camp Chowenwaw Park at the mouth of Black Creek near its confluence with the St. Johns River in historic Green Cove Springs followed by a catered lunch.
The agernoon will be busy with the Zone 5 Memorial Service and an important zone mee;ng.
The evening will conclude with a pay- your- own dinner at a famous area fish camp.
Hotel space is being negotiated and the schedule finalized.
The Florida lodges are well known throughout Sons of Norway for their regattas; the last one was held two years ago. So plan now to attend. All members, "wannabes," friends and "newbies" are welcome. If you are planning to bring your lodge boat, please notify Lodge Sports Director Eugene Yerkes at eugene.yerkes@att.net.